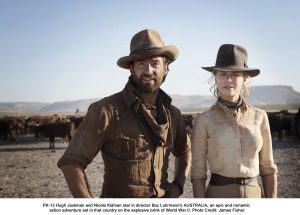 My friend Eric and I attended a Variety screening of Australia on November 20 (it opens Nov. 26), where Hugh Jackman, director/co-writer Baz Luhrmann and co-producer Catherine Martin did Q & A afterwards. Jackman looked very much like the Sexiest Man Alive in his black leather jacket and all-black ensemble but that's beside the point.
The film is a big, ambitious epic that deals with everything from Australia's Stolen Generation (how half-white, half-Aboriginal children were taken away from their families to be trained as white people) to battling cattle ranchers competing to provide beef to the Army and the Japanese bombing of Darwin during World War
II. In the midst of all this, Nicole Kidman's aristocratic character, Lady Sarah Ashley, and Hugh Jackman's no-name ranch hand (he's simply called Drover, which means a person who drives cattle herds) fall in love.
Eric and I had wildly different reactions to the film so I thought we'd do a Siskel-and-Ebert-style review instead of just me writing a straight one.
Our conversation went something like this:
Pop Culture Nerd: It was obvious Luhrmann was trying to make an overly stylized, old-fashioned epic so I just went with it and enjoyed it, although, admittedly, some things were pretty ham-fisted.
Eric: Some things? Other than the relationship between King George and Nullah [an Aboriginal elder and his grandson, who narrates the movie], I don't believe there was a single organic moment in the whole film.
PCN: You did not just say "organic." That's an overly used and vague word. What do you mean exactly?
Eric: Organic, to me, in terms of acting, means real, unaffected and having a ring of truth. For me, Kidman is huffing and puffing her way through the entire film and Jackman is busy mugging for the camera. I find it hard to believe they ever did a scene together. It looks like they said their lines separately and were spliced together later during post-production. They weren't listening to each other, which makes it all the more jarring when you see the stillness and focus during the scenes between King George and Nullah.
PCN: Granted, the acting is not naturalistic. It's very much about making an ENTRANCE and holding the smoldering looks. It's that old-movie style of acting. Kidman is a little cartoonish in the beginning but I felt it was to give her a place to go during the course of the movie. She has to start out as a somewhat silly woman so her eyes could be opened along her journey. Once she settles down, she's much more grounded. And Jackman said during the Q & A he was directed to be over-the-top, at least during the slo-mo shower scene, which was hilarious. Drover is Indiana Jones and Rick
Blaine. Luhrmann said he wasn't going for naturalism. He wanted to make something like Gone With The Wind and Casablanca and Lawrence of Arabia. This movie is nowhere near that stratosphere but it's still enjoyable.
Eric: Yes, he invoked those movies over and over again. I think it's unfair to compare Hugh Jackman and Nicole Kidman to the likes of Humphrey Bogart and Ingrid Bergman, but Bogart and Bergman at least knew when to throw away a line and when to give it intensity. So his comparison rings hollow for me, which is disappointing because I'm a fan of Baz Luhrmann.
PCN: I'm neither a fan nor a hater. I think he's hit or miss. I liked Strictly Ballroom, not so much William Shakespeare's Romeo + Juliet. I thought Moulin Rouge was visually bold but just okay overall. This movie is
flawed, it's too long, it tries to include too many stories and elements—comedy, romance, mysticism, action, Western, the Stolen Generation, World War II—but it was never boring.
Eric: At least with Ballroom, R + J, and Moulin Rouge, Luhrmann had a clear vision. With this movie, he seems to have had a number of stories he wanted to tell but there's no clear focus. There's nothing wrong with juggling a number of plot lines as long as they become cohesive by the end of the movie. What I saw on screen was a story about Australia's Stolen Generation derailed by the addition of two high-wattage movie stars.
PCN: I do agree that the Stolen Generation plot got sidetracked by the rivalry between the ranchers and the romance. But the battling-ranchers storyline introduced a lot of conflict and the cow stampede was heart-stopping. It reminded me of the stampede in The Lion King that killed Mufasa, but in live action.
Eric: The stampede was incredible. When Nullah (Brandon Walters) stands at the edge of the cliff and stares down the cattle heading for him, it's so powerful. And even though you know the kid was never actually in danger on set, he seemed to have really experienced it.
PCN: That kid is great. I can't believe he'd never done any acting or even seen a large city before doing this movie. He's a natural. He anchors the whole film for me.
Eric: He's just as intense in all his scenes with King George (David Gulpilil). Sadly, Bryan Brown (who plays King Carney, the rival rancher) and David Wenham (as his lackey, Fletcher) are reduced to playing stock bad guys drinking from oversized beer bottles and doing everything they can not to twirl their mustaches and laugh maniacally.
PCN: Yeah, those guys are pretty one-note. They're just stereotypically greedy and evil.
Eric: For me, this movie's a mess and only barely redeemable by its cinematography. It's an over-the-top romance novel with too much money behind it and not enough vision.
PCN: I think Luhrmann had too much vision for one movie and that's why he ultimately failed to make a great one. But some of that money was put to good use. The cinematography is spectacular; some of those vistas are breathtaking. It makes me want to call my Australian friends to see if I can come visit.
Eric: No argument there. The vistas are beautiful. But some of them looked too spectacular. Luhrmann mentioned that he digitized some scenes.
PCN: So? Name one recent movie that hasn't been digitized in some way.
Eric: That's not the point. From what I've heard, Australia's so beautiful you don't need to digitize it, especially the Outback.
PCN: The CGI is so subtle that it didn't bother me. I don't think you would've noticed it, either, if you hadn't heard Luhrmann say he used it.
Eric: True.
PCN: So, in conclusion, are you telling people not to see it or wait for the DVD or what?
Eric: Wait for the DVD. Maybe the extras will make it worth their time.
PCN: I think if people have 2 hours and 45 minutes to kill and they like those old-fashioned epics that studios rarely make any more, they should check this out on the big screen. The acting is cheesy at times but once you accept that's the broad style they're going for, the film can be entertaining. It's not great but it's worth a look.
Rating—PCN: Good, My Friend Eric: Sucks Dirt