The title of James L. Brooks's latest movie, How Do You Know (opening Dec. 17), refers to when you realize you've fallen in love with someone. But the question I asked myself while watching was: How do you know a movie is in trouble? When even charismatic stars like Paul Rudd and Reese Witherspoon can't save it.
Witherspoon is Lisa, a professional softball player who's considered over the hill at thirty-one and forced to transition to another career. Rudd plays George, a man who learns he's under federal investigation for stock fraud but doesn't know why. The two are set up by a mutual friend and have an awkward dinner, during which both are trying to figure out their next moves and neither is in a friendly mood.
That should've been the end of that, especially since Lisa is casually dating a baseball player, Matty (Owen Wilson). But Lisa and George keep running into each other—his father (Jack Nicholson) lives in Matty's swanky apartment building—and a friendship develops, despite Lisa moving in with Matty and the possibility that George might go to prison. As they try to sort out their lives, they also have to figure out how they truly feel about each other before one of them does something which would destroy their chances of being together.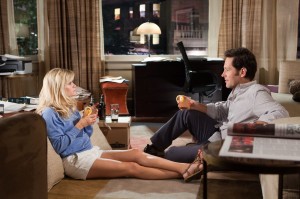 Witherspoon has said in several interviews Brooks wrote the part for her so it's odd what a bad fit it is. She makes a lot of exaggerated facial expressions to indicate her emotions without convincing me she was actually feeling them. This is unusual because she's normally such a natural actress. I never quite bought her as a professional athlete or someone suffering from a lack of direction. There's something about Witherspoon's headstrong, go-getter persona (her production company is called Type A Prods.) that doesn't lend itself well to a character who doesn't know what to do with her life and sits around drinking and talking about her ennui. The actress looks as disengaged from the role as Lisa is disconnected from her true feelings.
Rudd is charming as usual, even when George is supposed to be a sad sack, the complete opposite of a chick magnet. He has such clear, expressive eyes that you can almost identify the exact moment George realizes he's in love with Lisa. While she stays cool towards him for most of the movie (granted, she's with someone), Rudd is the one who sells the growing attraction. Meanwhile, Wilson does his playboy-afflicted-with-stunted-maturity act and Nicholson is Nicholson, doing what you'd expect of him.
Brooks wrote and directed two of my favorite films of all time, Terms of Endearment and Broadcast News, but his more recent work has been so frustratingly uneven. The pacing is off here, with some scenes cutting away too soon and many going on for way too long. Other scenes seem superfluous and should have been deleted and saved for the DVD's extras. The tone is also uncertain; the movie is billed as a romantic comedy but is more dramatic than funny. Brooks has insightful things to say about relationships but sometimes loses focus, leaving us with scattered thoughts that don't add up to much.
Nerd verdict: Wish I liked You more
Photos: David James/Columbia Pictures