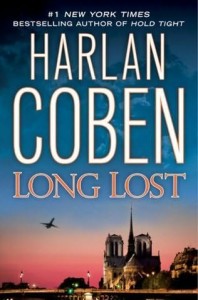 I hate Harlan Coben. Every time I pick up one of his books, I think, Oh, I'll just read one chapter and then I'll get on with my work/grocery shopping/showering, whatever. But it never works out that way. I'll read one chapter, then the next, then the next, then it's 12 hours later and I'm unwashed and starving but there's no food in the house and I missed my dental appointment because I haven't moved from my spot on the couch.
And so it wasn't any different with Coben's latest, Long Lost (out March 31), especially because sports agent Myron Bolitar, his sociopathic friend Win, his partner Esperanza and their receptionist Big Cyndi are all back in style for their ninth adventure. Myron gets a call from an old lover, Terese Collins (last seen in Darkest Fear), who entices him to meet her in Paris without telling him why. He runs into trouble as soon as he sets foot on French soil and the action doesn't stop after he returns to this side of the Atlantic. I don't like giving a lot away so I'll just vaguely say the plot involves murder, a possible kidnapping and cover-up involving a long-ago car accident, questions about nature vs. nurture, stem cell science, and terrorism.
Of all Coben's books, I think this has the grandest scope. I'm not just talking about the locations, though the descriptions of Paris are delicious (there's a sly reference to the French movie Tell No One, which is based on one of Coben's stand-alones). What I mean is, the stories are usually personal—Myron (or whoever's the protagonist in the stand-alones) gets sucked into a mystery because he's trying to find resolution for a personal matter or help out a friend. But Long Lost involves political conspiracies and Myron's actions have international consequences. The final reveal is disturbing and you won't see it coming.
If you're reading this and thinking, "What the…? I just want my wisecracking Myron and his goofy friends!" Don't worry—Myron is still funny, still drinking his beloved Yoo-Hoos, but he's more mature, as he should be since he's now in his forties. His relationships have more weight and poignancy, especially when he describes what it's like to watch his parents get older and more fragile. Myron's quips just can't cover up the heart that sits on his sleeve.
So, Myron fans, you can rejoice that he's back, but when you sit down to read this book, make sure you send your kids to a relative, cancel your appointments and wear a carpel-tunnel-syndrome brace so you won't hurt your hand flipping those pages.
Nerd Verdict: Nothing Lost in translation in this international thriller