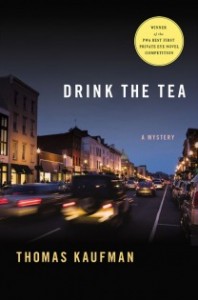 Reading a good book is always a pleasure, but there's something extra exciting about discovering a new author and his smashing debut, a PWA winner for Best First Private Eye Novel. Thomas Kaufman's Drink the Tea is a witty, fast-paced mystery that made me hope, only a few pages in, that it'll be turned into a series.
Willis Gidney is an orphan who spent his childhood in and out of foster homes, becoming an expert at stealing and lying, heading for a life of crime until he gets taken in by Captain Shadrack Davies of the D.C. Police. The experience changes him, not completely, but enough so that he grows up to be a smart-ass D.C. private eye.
An old acquaintance, jazz musician Steps Jackson, asks Gidney to find his daughter, Bobbie, the result of a one-night stand twenty-five years ago. Supposed to be a straightforward missing persons case but right away, thugs show up to rough up Gidney, people start dying, and Gidney realizes he's stumbled upon something which might involve a powerful corporation and a corrupt congressman.
The story jumps back and forth between the present case and Gidney's time in foster care, slowly doling out what happened between Gidney and Davies during their short stint together. Gidney has a quick wit, but we find it was born as survival instinct. We get to witness Gidney's evolution from problem child to a man trying to do the right thing, if sometimes reluctantly.
Kaufman, an Emmy-winning cinematographer who's shot shows like The FBI Files and The New Detectives, brings his eye for detail to his writing and excels in showing instead of telling. He describes a picture of a boy in a high-school yearbook thusly:
His interests included biology, chemistry, debate. He looked apologetic, as though his violin lesson had run over and he'd shown up late to chess club.
Kaufman didn't need to write "nerd"; the description couldn't be clearer. And instead of using variations on the word "big," the author writes that an internet cafe "had an espresso bar the size of Congress but with less hot air," and about "a pair of shoes that would have won me free tuition to Clown School."
Gidney's background and sensibilities make him part Elvis Cole, Robert Crais's wisecracking P.I. who was an old youngster once; and Harry Bosch, Michael Connelly's foster-care-raised detective whose biggest mystery is his own lineage. Since those two are top of my list of favorite series characters, Gidney is in lofty company indeed.
Nerd verdict: Drink this