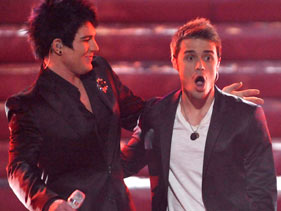 I can't believe Kris won! Whoo-hoo! I don't think I've been this pleasantly surprised in the eight years I've followed this show. I'd accepted that Adam would win since everyone keeps saying he would—the judges, Entertainment Weekly, his vocal fan base, many of my friends, etc. That, and the fact I only had time to vote for Kris 10 times last night made feel like he'd have to settle for second place. But I kept my fingers crossed, just maybe…
And the impossible happened! When the confetti rained down, it was Kris who was the new American Idol. He even received a little trophy in the shape of a microphone, which is a new thing this year. Only drawback to winning was he had to sing that lame song, "No Boundaries," but he sounded much better than last night.
This result is rather shocking because I didn't think much of Kris at all for much of the early competition. I couldn't even remember his name since his shy, unassuming ways made him blend into the background. But as the fat started getting trimmed from the competition, this quiet boy gained confidence and started making such daring, innovative choices ("Falling Slowly," "She Works Hard for the Money," "Heartless") that I had to take notice. I'm glad he won because I love an underdog story and it made for good TV!
The show was better than I thought it would be. I let the DVR get ahead an hour and 20 minutes before I tuned in 'cause I figured I'd have to fast-forward through lots of filler but ended up watching and enjoying much of it.
I liked the Kris and Keith Urban duet, "Kiss a Girl." When they first announced Urban, I thought, "Oh no, country music," which I do not like. But the song was upbeat, their styles blended well and the duet sounded cohesive. It was a performance that seemed rehearsed instead of thrown together at the last minute.
Other things I enjoyed: seeing Alexis Grace again, Jason Mraz, the Lionel Richie/Danny Gokey pairing, Allison and Cyndi Lauper doing "Time After Time," Steve Martin playing the banjo while Megan Joy and Michael Sarver sang Martin's song, "Pretty Flowers" (though Megan sounded a little wobbly), Rod Stewart doing "Maggie May" (with his 1978 hairdo intact!), and Adam and Kris dueting with Queen on "We Are the Champions."
Moments I thought were awkward, embarrasing or downright disgusting: The Golden Idols, which wasted time on obnoxious, talentless people desperate for attention (I refuse to mention them by name); the Lil Rounds/Queen Latifah duet of "Cue the Rain," which was a huge mess; and most of the group sing-alongs, especially "So What." They need to brush up on their dancing and choreography skills before they start the tour.
What I Both Liked and Hated: Kara getting to show her singing prowess (she's awesome!) and hot bod (did you see those abs?!) but having to share the stage with that skanky, porny girl.
What were the highlights for you? How do you feel about Kris winning? Whose album will you be buying? Will you be seeing the top 10 on tour?