For months now, giant billboards of Maggie Q in slinky outfits have been decorating the streets of L.A., trumpeting the arrival of a not-quite-new badass. When the latest reboot of La Femme Nikita finally premiered Thursday night, it had about as much depth as its advertising campaign.
Maggie Q stars as the titular character, now a lone wolf seeking revenge on the Division, the shady government agency that plucked her out of jail and trained her to be an assassin. Meanwhile, Lyndsy Fonseca is Nikita Jr., a drug addict named Alex who gets caught during a robbery, charged with a murder she didn't commit and recruited by the Division. The premiere episode cuts back and forth between Nikita trying to find the organization's weak spots and Alex adjusting to her new situation as a trainee, with some asskicking and Q in sleek outfits thrown in.
The problem was I didn't find any of the lead actors convincing. Fonseca has a soft, apple-pie healthiness that doesn't translate into a Ukrainian meth head. She'd snarl and try to give 'tude but comes across as posing. Shane West, as the Division recruiter/handler Michael, overacts with his cheesy chewing of every line, none of which held any conviction. He wants to be intimidating but I ain't buying it.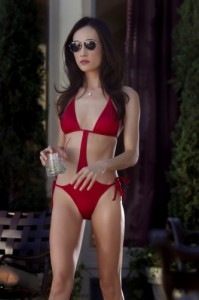 Q is harder to pin down. She has an iciness befitting a killer but it also makes her inaccessible. In the original Luc Besson movie, Anne Parillaud was allowed to be vulnerable and fierce, sometimes wiping away tears while blowing away bad guys. Q's Nikita is all glacier. She looks good in Nikita's costume changes but that only accentuates how mannequin-like she is. And her slight frame, devoid of any muscle tone, is too fragile to be badass or sexy. When a bad guy hits her during a fight, I worried she'd snap right in half. That's something I was never concerned about while watching Jennifer Garner on Alias.
I have a weak spot for fightin' ladies, though, so until my favorite shows return and there are other new series to check out, I'll probably give Nikita another go. But the show had better start making me care about its characters or it'll be permanently eliminated from my DVR.
Did you watch? How do you think this Nikita compares to the previous incarnations?
Nerd verdict: Nikita misses the mark
Photo Credit: Jordin Althaus/The CW