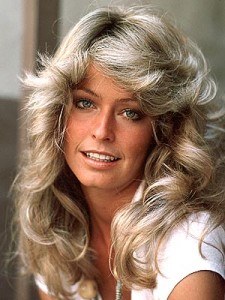 My heart is heavy and my words are clumsy right now so I turn the floor over to a contributing writer, Christian Moralde, who had several personal encounters with Fawcett over the years. I thought his impressions of her would make a fitting tribute.
******************************************
I've long respected Farrah Fawcett's work as an actress but only in the last ten years have I really appreciated the person and become aware she was a lot more than the pin-up in the red bathing suit and one of Charlie's angels.
She was an Emmy, Golden Globe and Independent Spirit Award nominee, worked off-Broadway and held her own against co-stars such as Cicely Tyson, Robert Duvall, Sidney Poitier, Geraldine Page, Kirk Douglas, and Glenn Close. She was actively involved in charity work against domestic violence and served as a board member for the National Advisory Council for the National Domestic Violence Hotline.
First time I met her was in 2002, at a Los Angeles County Museum of Art exhibition of her artwork. I asked Farrah what kept her going and made her a survivor in the industry.
"Always be yourself. Always use yourself," she said.
The second time I met her was at the 2004 TV Land Awards, where she was being honored and having the time of her life. I asked her backstage if I could take her photo and she flipped her hair playfully in full Farrah mode. At another point, someone asked her to hold up a product (I don't recall what it was) and have her picture taken with it. This was strictly against the orders of her manager, who was standing nearby. When he wasn't looking, she grabbed the product and told the person to hurry up and take the picture before her manager turned around. I've never forgotten her graciousness, lively spirit, and genuine sense of self.
In 2006, I had the opportunity to talk to the late director, Robert Altman, at an Oscars nominee luncheon about directing Farrah in Dr. T and the Women. His face lit up and his eyes sparkled. "She is lovely, a genuine lady and pleasure to work with."
A couple of years later, Farrah was invited to speak to the Los Angeles chapter of the Screen Actors Guild about her career, which spanned more than three decades. We chatted afterwards about how she'd managed to have this longevity and she said, "Don't look at the negative. Always look at the positive." She must have used those words often during her fight with cancer.
I don't want to focus on that final struggle for which she was primarily known these past few years. In writing this, my hope is to acknowledge her spirit and celebrate her life because she was a class act.