Since we're in a recession right now, most of us probably have to cut back on the big vacation this summer. But you don't have to feel stuck wherever you are. I've compiled a list of movies available on DVD that will take you away to an exotic locale. How can you beat a $3 vacation? (I'm even cheaper—I get them for free from my public library.)
The Sisterhood of the Traveling Pants—Santorini, Greece. I immediately made plans to go to this Greek island after seeing this movie on video (it took me a year and a half to finally get there but still…). The sun-drenched beaches and white-washed buildings were too much for me to resist, and the reality was even more astounding.
Roman Holiday—Rome, Italy. One of my favorite movies starring my favorite actor and actress of all time—Gregory Peck and Audrey Hepburn—showcases the wonderful landmarks the city is famous for: the Spanish steps, Trevi fountain, Bocca della Verita (Mouth of Truth), Coliseum and more. It's like getting a tour through the Eternal City from two charismatic, gorgeous tour guides.
If you want to see more of Italy and want to see it in color, check out The Talented Mr. Ripley. Besides Rome, the movie gives glimpses of Naples, Venice, Lazio and the Amalfi coast. And Jude Law almost counts as a tourist attraction in this movie.
Before Sunset—Paris, France. This movie takes place in one day as Julie Delpy and Ethan Hawke's characters walk and talk around Paris, still trying to figure out if their characters should be together (they started this dance in Before Sunrise). They sit around in cafes, take a boat down the Seine, and do romantic stuff with Paris as their backdrop. We're not sure if they're actually in love with each other but I do know I fell in love with the City of Light.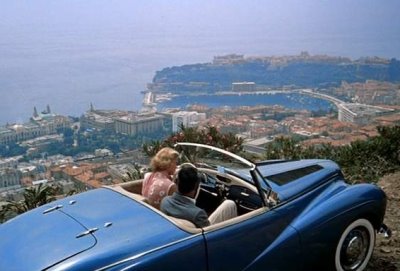 To Catch a Thief—Monaco. Grace Kelly was blindingly glamorous in this movie but the city, as captured in this Alfred Hitchcock movie, is just as breathtaking. Watching her drive Cary Grant around in her blue convertible and set off fireworks at night over the city when she kissed him, I thought of that famous Tina Fey line: "I want to go to there."
Vicki Christina Barcelona—Barcelona. Seeing Javier Bardem, Scarlett Johansson and Penelope Cruz take bike rides and have picnics in the countryside, I asked myself why I don't do that more often. Oh, yeah, I live in L.A. and would probably get hit by an over-sized SUV on my bike. But in Spain, that kind of languorous behavior would probably be enforced. Aren't siestas mandatory? Sign me up.
Sex and the City—New York City. We all know there are parts of NYC that are so scary, you wouldn't walk past them in daylight with beefy bodyguards by your side. But SATC makes it all look so shiny and romantic, stuffed with beautiful people wearing even more beautiful clothes. The walk-in closet Big builds for Carrie is a landmark in itself. I could never afford the way of life these people have but indulging in the movie makes me feel fancy and frivolous.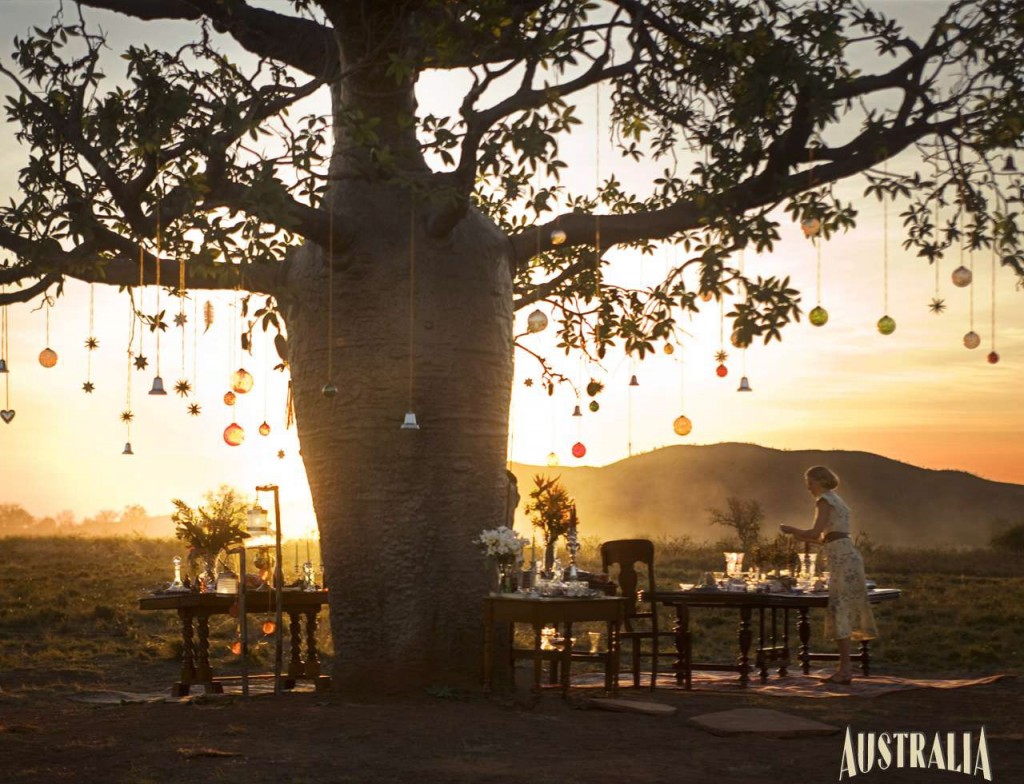 Australia—Australia. I don't know much about Australian geography so I had to look up some things after being blown away by the stunning locales in this movie. Apparently, some of the featured areas are in Western Australia (the Kimberley region), the Northern Territory, and Queensland. I'm not an outback person so much but while watching this movie, I thought, "How nice would it be to unplug from everything, go there for a little while and ride some horses?" If Hugh Jackman shows up and wants to hang out, that would be fine, too.
In Bruges—Bruges, Belgium. I apologize to some of you if you've heard me go on about this movie before but I love this little gem. Though Colin Farrell complains endlessly in the movie about being stuck in this medieval city, I found it quaint and lovely. I like the canals and the market square and the imposing Belfry, even though it served as backdrop to a bloody scene.
So have at 'em, readers. Check out these movies, put on your most comfy traveling clothes and recline that seatback on your La-Z Boy. Post comments and tell me which movies have inspired you to visit a certain place.
Speaking of traveling, I'll be out of town for the next 10 days to see family. I might be posting less often but I've stockpiled some great stuff that will be published while I'm gone, including reviews of The Proposal, Funny People and an interview with thriller writer Gregg Hurwitz about his new novel, Trust No One.
I might also post book reviews from the road 'cause here's what I'm taking with me:
There's no way I can finish them all but I can't decide which to leave behind. I sampled the first chapter of each (I'm halfway through Hothouse) and they're good in different ways—funny, suspenseful, adventurous—so I'll take them all and let my mood guide me.
Enjoy your DVD vacations. May each take you on a wonderful adventure.