I'm pleased to welcome another guest blogger today. First, I had little children do my work, and now a published author. I could get used to this.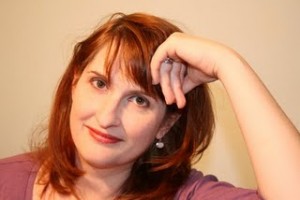 Sara Angelini is an attorney and writer living in the San Francisco area. She's here to talk about her new book, The Trials of the Honorable F. Darcy. Recognize that surname? You'll have to read on to find out more. Sourcebooks is generously letting me give away 2 copies of this book. See details on how to enter below Sara's post.
I'll now sit back, have another piece of cake and give Sara the floor.—PCN
***************************
Hellooooo.  *peeks head around door* Did I come at a bad time? No? Phew. What a relief. I'm pretty new to this whole blogomajigger, so when I was invited to do a little promotion for my book here, I was nervous. I mean, "Pop Culture Nerd" sounds so…well…cool. And I'm not cool. Not at all.
So please bear with me as I expose my unbearable dorkiness and try to wow you with reasons to read my book.
Oh yeah. The book. Maybe I should get around to telling you about that, hmmm? OK.  It's called The Trials of the Honorable F. Darcy, and it's a modern adaptation of Jane Austen's Pride and Prejudice. Why, you might ask, would one do a modern adaptation of Pride and Prejudice? Wasn't the Regency version just fine?
The answer is because I love the characters in Pride and Prejudice and wondered what it would be like to hang out with them, only I have no idea what the Regency period is like. So rather than immersing myself in their world, which would involve lots of research and maybe wearing some funny clothes, I brought them into mine. They got over the culture shock pretty quickly.
I suspect Ms. Austen may be twirling like a dervish in her grave at what I've done to her stoic Darcy and her charming Elizabeth. A Darcy who sleeps with Caroline? An Elizabeth who drops the "f" bomb with alarming frequency? A Mrs. Hurst who is actually a gay man? Surely Austen's beloved characters would never act so crass…or would they?
Modern culture has become extremely relaxed over the last two hundred years, and undoubtedly Austen's characters would have evolved with the times. Regency spinsters are today's working women. The landed gentry are today's internet moguls.  Couples are waiting longer to get married and have kids, and serial unmarried monogamy is the norm.
With all this in mind, I set out to give Elizabeth Bennet a makeover, a literary What Not to Wear, if you will. She had solid basics: "fine eyes" and a "light and pleasing figure," was educated, witty, and determined to marry for love even if it meant the ruin of her family. It was much the same with Mr. Darcy: He was tall, handsome, had too much money and not enough humility but was, at heart, a decent guy.
The real challenge was updating the plot, which I summarize thusly: Destitute spinster turns down marrying obscenely rich man because he's a jerk and thinks her family is inferior, jerk learns his lesson and cleans up his manners, proves his love by sullying his hands to rescue spinster's wicked, wicked sister, spinster realizes she does love him after all, and he's got a *dope* house. Spinster and jerk get married, live happily ever after. Only Austen writes it so much better.
I started by scrapping the Mr. Wickham element. Who cares if Elizabeth's sister eloped with a gambling soldier? The only purpose of Mr. Wickham was to prove that Darcy could overcome his proud distaste for him enough to become his brother–in-law. Plus he's a pedophile. Ick.
Then I got rid of the whole your-family-is-rude-and-uncouth angle. Elizabeth's family is just like the vast majority of middle-class America: sorta loud, kinda embarrassing at parties, but hey, they're your family and you have to love them or you go to jail.
Next I gave them a conflict they could sink their teeth into: an ethical dilemma. By making Darcy a judge and Elizabeth an attorney, I created a situation that actually prohibits their involvement because it creates a conflict of interest. Somebody was going to have to sacrifice a career in order to make this relationship work.
Finally, I gave them modern sensibilities and humor. Nothing in Austen's work implies that Darcy is dour, as is so commonly assumed. In fact Mr. Bingley seems to think Mr. Darcy is a real laugh riot when he's with his friends. Nor is there anything to suggest that he is virginal, prim, or dainty. It seemed perfectly reasonable to me that he and Caroline would be friends "with benefits."
As for Elizabeth, she has such a sparkle and wit in the original that it only wanted a little lipstick to make it modern. She's vivacious, talented, and confident. No off-hand remark about not being "handsome" enough to tempt anyone is going to get her down.
For their interactions, I tried to hold to the spirit of Austen while plucking events from my own experience to give them life.  Contentious court confrontations? Check. Embarrassing gaffes? Check. Massages with friends? Check. Slow, smoldering, smokin'-hot sex in an elevator? Uh…no comment.
Some might say that I modernized Austen's characters by superimposing myself onto them. I'm sure that's true to some extent, since it's impossible not to imprint onto them. But I also believe that Austen's characters are so well written, so vivid yet generalized, that everyone can see a piece of themselves in them. We all want to be Lizzy, and we all want to marry Darcy.  It's just a matter of figuring out exactly who Lizzy and Darcy are; and the answer is, they are us.
*************************
Thanks so much, Sara! If you insist that we're all smart, witty, handsome and rich, I shall not object.

Readers, are you intrigued? Want to get your hands on the book? Did I mention there's lots of hot sex?
For a chance to win 1 of 2 copies, leave a comment explaining why you must have this book. Make like Lizzy and give me a really persuasive argument for your case. Unlike my other giveaways in which winners are randomly selected, I'm going to be the, ahem, judge on this one. The two people with the most passionate pleas win.

Other eligibility requirements:
Must be a subscriber or Twitter follower

Must live in the U.S. or Canada (sorry, international readers, this is Sourcebooks' request)
Contest ends on Sunday, October 4, 5 p.m. PST. Results will only be announced here and on Twitter; winners will NOT be e-mailed. If I don't hear from winners within 48 hours, new ones will be chosen.