I based the following on something I saw at Reactions to Reading. The idea is to finish the following sentences using only titles of books I read this year. Considering I read mostly crime fiction with "death" in the title, this was difficult to do without sounding like I'm a creepy person or badly in need of Prozac.
I reworded some sentences, skipped a couple I had absolutely no relevant answer for, and added one of my own. It turned out kinda interesting.
Note: Authors' names are in parentheses and if a title is underlined, click on it to see my review or author interview.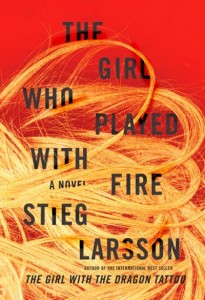 I am: The Girl Who Played with Fire (Stieg Larsson)
I feel like: Twenties Girl (Sophie Kinsella)
I live in: This Wicked World (Richard Lange)
If I could go anywhere, I would go to: The Four Corners of the Sky (Michael Malone)
My friends and I are: The Renegades (T. Jefferson Parker)
What life is to me: Hothouse Flower and the 9 Plants of Desire (Margot Berwin)
I fear: The Face of Betrayal (Lis Wiehl and April Henry)
I know: The Way Home (George Pelecanos)
Best advice I can give: Trust No One (Gregg Hurwitz)
Thought for the Day: Beat the Reaper (Josh Bazell)
How I would like to die: Nothing But a Smile (Steve Amick)
My soul's present condition: Awakening (S.J. Bolton)
Are you up to the challenge? How many sentences can you complete with only book titles you read this year?