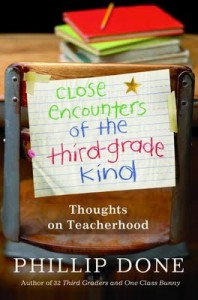 I wasn't planning on doing another giveaway so soon after doing one for Stieg Larsson's The Girl Who Played with Fire, but I just finished reading this charming book and wanted to share it with you. Besides, with kids returning to school, this is the perfect time for this.
Phillip Done has been an elementary-school teacher for over 20 years. In Close Encounters of the Third-Grade Kind: Thoughts on Teacherhood, he tells true tales of the kids he's taught, everyday children who make you laugh one minute and crush your heart the next. Done (rhymes with "phone") writes in an uncluttered, self-deprecating way which makes this a fast, easy read but one which stays with you. There's one kid in particular—Michael, nicknamed Angel—whose story kicked me in the gut and made me cry like, well, a third-grader.
I'm giving away three copies of this book, courtesy of Hachette Book Group. If you'd like to enter my random drawing, you just have to:
Be a subscriber and/or follower on Twitter (both isn't necessary)
Leave a comment telling me about your favorite teacher and why that person is memorable
Be a U.S. or Canada resident, no P.O. Boxes
I'll take entrants until 9 p.m. PST, September 14. Hachette will mail books directly to winners. Good luck!