The DVR was about to explode this weekend so I chained myself down with popcorn and cake for some marathon TV viewing. Some quick impressions: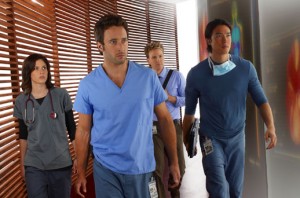 Three Rivers. Warning: This soporific show might induce a coma. Though the actors—including Alex O'Loughlin (Moonlight), Daniel Henney (Agent Zero in X-Men Origins: Wolverine), Katherine Moennig (The L Word), and Alfre Woodard—are pretty, their characters are dull and saddled by storylines that are neither compelling nor groundbreaking. It's all been done better on the myriad of medical shows that have gone before. Nerd verdict: Needs life support.
Mercy. For a better new hospital show, try this NBC series instead. It focuses on three nurses working at Mercy Hospital in Jersey, with stories revolving more around their lives than medical mysteries. The lead, Taylor Schilling, is a TV newcomer but she comes across like an old pro, playing her Iraq veteran character, Veronica, with intelligence, forthrightness and sly sexiness. Jaime Lee Kirchner injects sass into her role while Michelle Trachtenberg is a little annoying as the green, earnest nurse (more how the character is written than the actress's fault), but she has less screen time than the other two so I'm okay with her for now. Nerd verdict: Check into Mercy.
FlashForward. Three eps in and it's growing on me. At first, I thought it was too much a Lost rip-off, with references to Oceanic Airlines and Australia in the pilot, plus Lost's Penny, Sonya Walger, as a series regular (additional Losties include Kim Dickens guesting in ep 3 and Dominic Monaghan joining the show in episode 6). But I'm now caught up in the Mosaic and the visions and mystery without being pissed off—yet—by the obliqueness of it all. Nerd verdict: I see it being around six months from now.
Are you hooked on anything yet this season? What started out strong but has already lost you?