I had rehearsal today for the new play I'm doing, so I tuned in late to the Golden Globes. I'm now exhausted so this write-up won't be long; I just wanted to throw out a few thoughts (for winners list, go here):
Adored Tina Fey and Amy Poehler as hosts. The line about best director nominee Kathryn Bigelow—Poehler said, "When it comes to torture, I trust the lady who spent three years married to James Cameron"—was hilarious and a strong way to open the show.
I liked most of the winners, even the ones I didn't expect, such as Ben Affleck for directing Argo (I thought Steven Spielberg was going to take it). For years, I was not a fan of his as an actor, but he won me over as a director with Gone Baby Gone, and Argo is his most accomplished work yet. A few days after he was snubbed by the Academy, his win and the movie's win for best picture drama must've been especially sweet for him.
What does it take for Jon Hamm to win an award??
Loved Jennifer Lawrence thanking Harvey Weinstein for killing whomever he had to kill to get her up there, and Adele saying she'd been pissing herself laughing. So much better than dull winners reading from sheets of paper.
Who freaked out at Michael J. Fox's son looking exactly like him? Fox père sported that haircut all through his Family Ties years.
I don't know what to think about Jodie Foster's speech. On one hand, I think if she wanted to publicly come out, she should've just done it instead of playing coy. On the other hand, I'm all for people, including celebs, retaining some modicum of privacy, and agree with Foster that she doesn't owe the public any kind of explanation or statement about her private life. Then again, she brought up the subject. No one asked her to address her sexuality as part of her acceptance speech. If she didn't want to talk about it, she could've just said thank you and gotten off the stage. I did think her tribute to her mother was touching. The L.A. Times transcribed her entire speech here.
Lena Dunham needs to learn how to walk in heels or don't wear them. During the time it took her to wobble to the stage the two times she won, I finished my taxes and Christmas shopping for this year.
Kristin Wiig and Will Ferrell made me laugh as the most clueless presenters ever. Their fake description of Salmon Fishing in the Yemen's plot was ridiculous. Tommy Lee Jones looking like he was going to bust their kneecaps at an after-party was even funnier.
Favorite dress, and most appropriate for the cold, L.A. weather: Naomi Watts in Zac Posen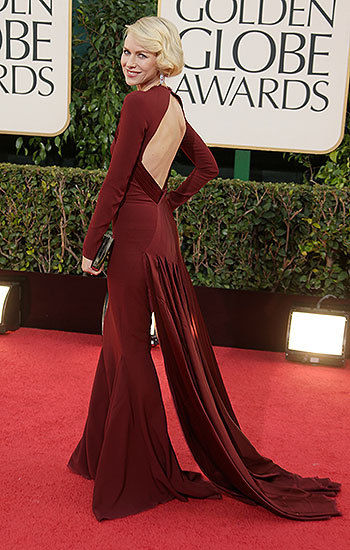 Favorite dress I wouldn't wear but it looks cool on her: Lucy Liu in Carolina Herrera (it has pockets!)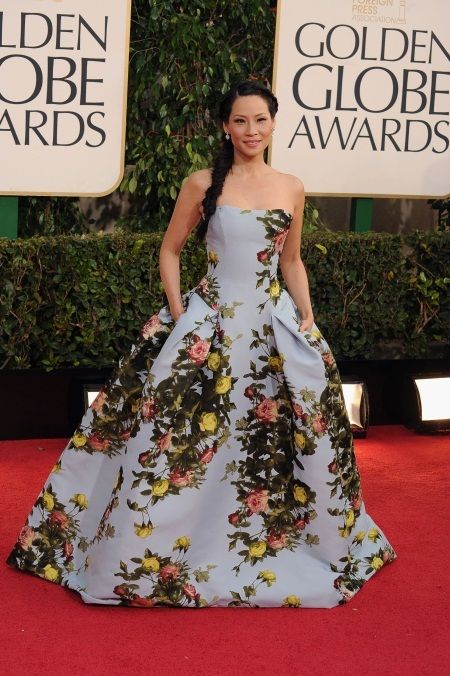 Daniel Day-Lewis made me swoon with his elegant acceptance speech, telling Lincoln writer Tony Kushner: "Every day I have to live without the wealth of your language, which reminds me every day of the impoverishment of my own." That's impoverished? About the others nominated in his category: "If I had this [the Globe] on a timeshare basis with my wonderful gifted colleagues, I might just hope to keep it for one day of the year, and I'd be happy with that." Um, I feel penurious now so I'll just stop here.
What did you think? Happy about Les Mis's win for best picture, comedy or musical? Shocked Quentin Tarantino won best screenplay?
Photos: Fey & Poehler/NBC, Watts and Liu/Getty