Since tomorrow is Halloween, I thought this would be a good time to tell you about the first and last time I ever read Dean Koontz.
I'd been in L.A. for only a few months and about to move into a new apartment with two other people. The lease didn't begin until first of the month, which was also when phone and electricity would be turned on, but the landlord said we could move in early. My roommies said they'd wait but I thought I'd be a badass and moved in three days early.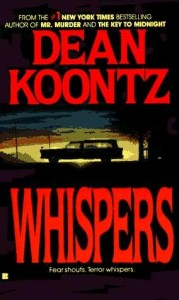 I've never had trouble being alone for long periods of time as long as I have a book. So, I went to a used bookstore in North Hollywood to look for a cheap paperback I could kill three days with. A copy of Koontz's Whispers was sitting in the bargain bin. I'd never read him but a friend was always recommending his books (I should've considered that my friend loved scary movies with guys named Freddy and Jason in them) and the dollar-price was right. I took it home with me and attacked it that afternoon. What else was I gonna do? Nobody to call and no TV to watch.
I sat on the floor of my new bedroom—I had zero furniture, not even a bed—under a window and read. For hours. And hours. I remember being vaguely aware of shadows passing by the window above me as the day got long and the sun started descending. But I kept reading. Because it was getting really good and scary. I didn't even stop for lunch.
Suddenly, it was dark. I only noticed it because I could no longer see the words. I went to turn on the light and belatedly remembered there was no electricity. I also realized the temperature in the room had dropped precipitously. With the sun on my back from the window, it had been sufficiently warm in the apartment during the day. But now it was evening in February and my clothes felt too thin.
And I was sitting in the dark, alone, with a creepy-ass book in my lap. I had no cell phone to call anyone (this was early '90s), nowhere to go. I don't remember specific details about the book but the plot had something to do with a stalker who shows up at a woman's house to kill her. A woman who's alone, exactly like I was that night.
I wanted to go downstairs to get something to eat but looked at the dark chasm that was the winding staircase and thought, Forget it. Did I mention I didn't own a flashlight? I was sure someone would grab me on the landing and no one would hear me scream.
After cowering in the dark upstairs for another half hour or so, I decided to try and sleep since there wasn't much else to do. Plus, I needed relief from the escalating Whispers-induced paranoia in my head. I curled up on the floor with my blanket, certain my roommates would show up in a few days and find me as a corpse, cause of death being an actual intruder or heart attack from massive fear.
Don't remember how I managed to quiet my brain enough to sleep but next thing I knew, I opened my eyes to a bright shiny morning. I'd never been so happy to see sunlight and all my limbs still attached. Went downstairs and ate a sandwich like a lion in the wild on a downed gazelle. Newly energized, I went back upstairs and finished Whispers because I don't like leaving things unfinished. But after that, I never read Koontz again.
What's the scariest book you've ever read? Happy Halloween!