This is by Mr. PCN, my friendly neighborhood contributing reviewer.—PCN
***************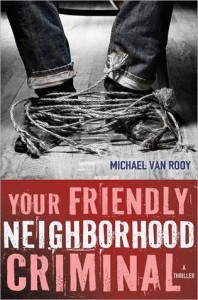 Ever try to quit something you know is bad for you, but it feels so instinctive it'd almost be wrong not to do it? That's the dilemma loveable ex-criminal Montgomery "Monty" Haaviko faces on a daily basis.
What keeps our hero on the path to upstanding citizenship is the love he's found with tough-as-nails Claire and their adorable and feisty baby, Fred. There's also a dog named Renfield and a mouse named Thor. This family, combined with Monty's current occupation (no, I will not spoil it in case you haven't read the previous book in this series, An Ordinary Decent Criminal), infuses the story with more than a few chuckles.
But the meat of both novels is how Monty uses his skills as a master criminal and all-around badass to blur the lines between right and wrong, without actually stealing or killing while keeping one step ahead of the cops.
In Your Friendly Neighborhood Criminal, Monty and Claire are struggling financially with his odd jobs and her budding real estate venture, but it's all legal so there's a stability to their newfound life on the straight and narrow. Until a tempting offer comes along. Monty has to decide whether to use his abilities for a good cause and a great payout, or walk away and continue wrestling with his cash flow issues.
Of course, his past comes back to haunt him anyway in the form of Smiley, a fellow lethal guy who shows up on Monty's doorstep in the middle of the night, claiming he wants to try living the straight life as well. Add to the mix a crack den taking up residence down the street and Monty has his hands full keeping his family, the neighborhood and his current life safe from his past one.
Intrigued? You want more? Here's Monty's response to Marie, someone who approaches him with a $5000/week job offer because of his past, and inadvertently makes him feel like she's blackmailing him.
When Claire and I were standing Marie spoke in a bantering tone: "Out of curiosity. Just what is your response to blackmail?"

I didn't smile. "I hurt you. I hurt you badly enough so you remember it forever. I burn down your house. I take an electric drill to your kneecaps. I blow up your workplace. Memorable shit like that."
And memorable he is.
Though this second installment in Van Rooy's wickedly fun and edgy series can stand on its own, I recommend starting with the first novel because you don't want to miss Monty's extremely intense backstory.
Unfortunately, the author passed away suddenly in January of this year, and though his third Monty adventure is available in Canada, it's not clear when it'll hit the States. It's really too bad because Van Rooy was one of the good ones and I, for one, will miss this very promising series of books.