Oh, man, I didn't do so well this year in my predictions. Usually, I miss only 2-4 categories but this year I tanked by getting 7 wrong (17 right). I thought Avatar would win more technical awards but The Hurt Locker demolished it in the sound categories, too.
I assume you already know that Hurt Locker, Jeff Bridges, Sandra Bullock, Christoph Waltz, and Kathryn Bigelow won the big awards. (For the rest of the winners, click here.) So I'm only going to discuss the moments which stood out for me for reasons both good and bad.
Most Confusing Guest? Host?: Neil Patrick Harris opening the show with a musical number. I like him and he's a talented singer but he was neither Alec Baldwin nor Steve Martin. It felt odd that he was auditioning to be host of next year's telecast while this year's was just beginning.
Best Agency Dis: Baldwin. At the beginning of the show, he said, "In Precious, Gabourey Sidibe is told she's worthless, nobody likes her, that she has no future. Hey, I'm with CAA, too!"
Least Prudent Interruption: Elinor Burkett, producer of documentary short winner Music by Prudence, Kanye'd director Roger Ross Williams's acceptance speech by hijacking the mike and talking over him, complaining that women never get to talk. Her rudeness and anger were ironic since the film is supposed to be uplifting. (Salon.com has the story behind the incident here.)
Funniest "Horror" Clip: Martin and Baldwin's Paranormal Activity spoof, which shows Martin bitch-slapping Baldwin in his sleep, causing Baldwin to fall out of bed.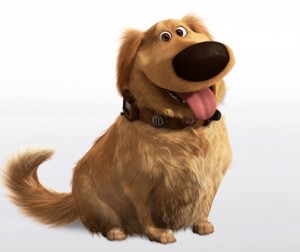 Most Welcome Close-Up: During the animated sequence featuring the nominees for best animated feature, Up's talking dog, Dug, went right up to the camera and licked it before saying, "This is not food." I love Dug and his big, squirrel-sniffing nose!
Understatement of the Year: Julianne Moore. Regarding filming A Single Man, she said, "Three days is not nearly enough time to spend in the company of the magnificent Colin Firth." Truer words were not spoken.
Best Nerd Representative: Sam Worthington. He whipped out thick black frames to read the teleprompter while presenting best score nominees. Holla! Sully (and the upcoming Perseus) is a cute myopic nerd!
Rudest Omissions from Memorial Tribute: Where were Farrah Fawcett and Bea Arthur?
Most People Thanked in Least Boring Speech: Sandra Bullock. Somehow, she managed to thank her fellow nominees, the Twohys, her husband, her late mother, all mothers, and her "lover Meryl Streep" while gettiing laughs and reducing her tough-guy spouse to tears.
Best "I So Deserve This" Award: Sandy Powell for best costume. She was decked out in a striking dress with impeccable accessories, right down to her sequined beret. If you saw her walking down the street like that carrying an Oscar, you'd know instantly what category she won.
Strangest Pop & Lock(er) Sequence: For The Hurt Locker's nominated score, dancers performed a pop and lock dance routine. How does that represent soldiers deactivating bombs?
Wrongest Place for a Stripper Pole: In the middle of the dance number to Up's nominated score, a pair of dancers cavorted around a pole that looked like one from a strip club. I can't even think about Carl and Ellie in those terms.
Best New Contender for President: Kathryn Bigelow. Can we get her to run in 2012, please? Her arms alone could crush bin Laden's head like a grape. The woman kicks butt 9 kinds of ways and looks like one of Wonder Woman's Amazon sisters from Paradise Island.
Which moments were memorable for you? Did you like Baldwin and Martin as hosts? How'd you do in your Oscar pool? Make sure you check out my fashion slideshow here!