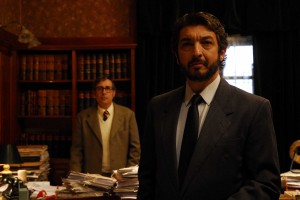 When the end credits started rolling after a screening of Argentina's El Secreto de Sus Ojos (The Secret in Their Eyes, in limited U.S. release), I muttered to myself, "Perfection." Oscars may be occasionally given to undeserving recipients, but this year in the best foreign film category, I think the Academy got it right. (I did, too; I predicted its win!)
The movie centers around Benjamin Esposito (Ricardo Darín), a prosecution investigator haunted by a case from 1974 in which a beautiful young woman was raped and murdered. Now retired and attempting to write a book about it, Esposito reconnects with his former boss, Irene (the resplendent Soledad Villamil), to get feedback on his manuscript and discuss past events. It becomes clear very quickly, due to close-up shots of the actors' expressive eyes, that their feelings for each other are just as unresolved as the case. The story smoothly transitions back and forth in time to show the investigation, how the victim's husband deals with his grief, even briefly covering the political turmoil during Argentina's Dirty War.
The description may make the film sound like heavy drama, but it's also a love story that's at once palpable and restrained. I imagined director/co-writer Juan José Campanella removing pages of dialogue from the script and telling Darín and Villamil's to just say everything with their eyes. I also laughed out loud quite a few times, thanks to Guillermo Francella, who plays Esposito's drunk friend and colleague with a droll delivery of zingers (pay special attention whenever he answers the phone). The combination of different genres isn't surprising when you consider Campanella's past work (the movie was adapted from a novel by Eduardo Sacheri, who also co-wrote the script). Not only has he mastered the police procedural with multiple episodes of Law & Order: SVU, he's also directed episodes of 30 Rock and Strangers with Candy .
Campanella did Q & A after the screening I attended, which was sponsored by Creative Screenwriting magazine. He was witty and humble, despite being a newly minted Oscar winner. His publicist kept sending notes to the moderator to wrap up but Campanella repeatedly said, "It's okay, I'm okay," and stayed way past his allotted time.
Some things I learned from the session:
His NYU thesis film got him a William Morris agent but he couldn't get a job for 10 years after that.
After his first feature bombed at the box office, he returned to Argentina "to be with Mommy" and find his voice.
He initially wanted to completely cut Pablo, the role Francella played, from the movie (the audience gasped at this since Pablo is so vital to the film).
In the novel, Irene is only a colleague in Esposito's office and not involved in the case at all. In the film, she's not only part of the investigation, she helps him expose the killer.
The final twist is different.
Nerd verdict: Captivating Eyes
Photos by Maria Antolini, courtesy Sony Pictures Classics