by Jason Matthews
When Simon leaves Idol at the end of the season, can Miley Cyrus take his place? She makes the show SO fun. She's just as bitchy, just as divisive, and just as deliciously awesome as our grumpy British boss. Let's be real: in the history of things, "Miley Cyrus" is a perfect idea. A 17-year old trapped with an 80-year-old cigarette smoker's voice. Brimming with sexuality, but only able to take it so far cause of the Disney thing. (She will simulate sex in the first video she shoots after her contract expires. Count on it.) A secretly horrible voice, making the catchiest jams of this decade? There's no one better than Miley.
Who didn't love Miley? Telling Crystal how to sing better? Trying not to molest Tim? Not hiding her hate of Andrew? Dorking out with Siobhan? And acting out in the best and grossest ways in the audience?  Everyone loved it. The performances tonight were uniformly abysmal, but it was still the best episode of the season, for obvious Cyrus-related reasons.
Here are the reviews of the performances, from best to worst.
Siobhan Magnus – "Superstition"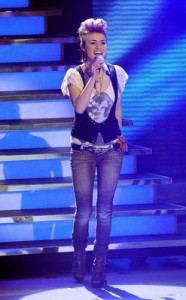 How can you not love the mutual coofest that was Siobhan and Miley? Did you see how with Siobhan, Miley desperately wanted to seem cool to her, whereas with Katie, she thought she was too cool for school? And Siobhan with her full-on, no-shame admittance of her love of Miley? It's too great! Can we have more of them smiling at each other with their beautiful girl crushes, please? Don't we all just want two hours of Siobhan dorking out with Hannah Montana, interspersed with her looking superfly and glory-screeching through Stevie Wonder hits? Isn't that what happiness looks like?
Casey James – "Power Of Love"
Ooh, dicey call, not kissing the Miley ring. Her evil eyes during the mentor rehearsal should have clued Casey in that maybe a tip of the hat to "The Climb" would have been a better way to go. But for the rest of us, singing "Power of Love" is all the ring kissing we need. One of the best pop songs of the last 30 years, instantly making us nostalgic for Back to the Future, Casey could have burped this song and I still would have loved it. Helps that he delivered a solid vocal, nice stage presentation, and a super fun arrangement. Can Casey sing Huey every week?
Didi Benami – "You're No Good"
That performance should carry a NSFW label. It was hot! Maybe it was a bit screechy, but I'll take her pseudo-sultriness and saucy mean-face growl-singing over the cornball hairspray nonsense of Tim Urban, or the soulless yipping of Andrew Garcia any day of the week and twice on Sunday. At least she was taking a risk, playing outside her comfort zone. Trying! Big points for our girl Didi tonight, no matter what the cranky judges thought.
Aaron Kelly – "I Don't Want To Miss A Thing"
His best performance, and it wasn't even close. And by that I mean I stayed awake through it. Dug the dramatic blue light walk to the mic, the slow intro and the first chorus. Can't tell you about the rest, though, cause I zoned out and didn't come back in 'til Randy started yo'ing at me. But hey, Aaron was legitimately riveting for a good thirty-five seconds. That's progress!
Katie Stevens – "Big Girls Don't Cry"
Were we watching Miley mentor Katie, or a scene from Mean Girls 2? Miley's non-advice, her looks of "Bitch, don't you DARE think you're gonna be where I am," her insincere well wishes? Classic bitch work, Miley. Really great stuff! Katie could have really used her help, too. You could tell from the first note Katie didn't believe she could pull it off. She was stiff, stilted and out of rhythm. Fergie gets that song done by oozing sensuality; Katie isn't old enough to know what that is. Miley fakes it, and knows how, but darn if she was gonna teach Katie how to do it. Poor Katie…
Crystal Bowersox – "Me and Bobby McGee"
I could stare at Miley's stunned reaction to Crystal all day long; I want it as my screen saver. How cool was Crystal to include Miley in her collection of female singer autographs on her guitar (when Miley CLEARLY doesn't deserve having her name associated with a talent like B-Sox)? Doesn't even matter that it was her coolest moment in the show (as her actual performance was quite subpar). Crystal may be treading water, or even losing momentum, but she's gaining fans and that's way more important for her post-Idol career.
Michael Lynche – "When A Man Loves A Woman"
Mike created some love tonight! Ellen was making out with Ryan's hands, Miley was so sprung on Big Mike, Jungle Fever balloons were popping all around her crazy precocious head, and Kara was working overtime to produce more fake tears. But how was the performance? He sang just fine, looked fine; it was fine. Manipulative like whoa, as is his M.O., but fine all the same. It's funny when Kara calls Mike over-indulgent when that is his sole reason for being on the show! It's like calling Crystal a hippie; no need to restate facts about things, judges.
Lee Dewyze – "The Letter"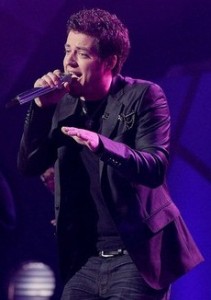 One thing's for sure: Michael Bublé has nothing to worry about. Simon was right—that was a magnificently poor song choice. Why Lee thought he could croon on stage and not look like a buffoon is anyone's guess. He should never move away from rock music. It fits his voice the best and hides all his weaknesses (did you notice how badly he was scraping his lower register?). He's not Danny Gokey; he shouldn't perform like him.
Tim Urban – "Crazy Little Thing Called Love"
It's always fun when the female mentors invent reasons to touch the male contestants. Miley was throwing her raccoon eyes and Florida Grandma face all over Tim's business. Thankfully (or maybe not), he survived long enough to deliver a super karaoke performance, whose only saving grace was his hot blue-gray blazer. Everything else was corny. Also? When a contestant jumps into the crowd, that's a sure sign of desperation. He should write Paige a thank-you note for gifting him a place on the Idol tour.
Andrew Garcia – "I Heard It Through the Grapevine"
When you can't impress Miley Cyrus, who is still knee-deep in her "SHINY!" phase, how can you expect to impress America? Answer: You can't. Talk-singing isn't going to do it. A voice flatter than Ellen's jokes?  That's not it. Corny arrangement, clunky dance moves and an amateur presentation? Boring our poor Miley in the audience (AGAIN)? Nope! It's safe to say Andrew failed to impress this week.
Paige Miles – "Against All Odds"
Paige must have summer plans 'cause I have never seen someone try so actively to get kicked off American Idol. Everything was bad. E-ver-y-thing. Shaky opening, low-energy start on the steps, random wandering on the stage. Did she fire her tone? Wow, that was so, so bad. Miley was right; it was a Pitch Party in the USA.
Should Miley mentor the Idols every week? Would you buy a Miley/Siobhan duets CD? These were obviously rhetorical questions, but let's talk Idol in the comments!