Here we go, the first of one million award shows this season. I always look forward to the Globes because it's usually the loosest, wackiest award show, with drunk celebs and the Hollywood Foreign Press often choosing odd winners (Madonna as best actress comedy/musical for Evita).
This year had predictable wins—La La Land swept, which I'm happy about—but some upsets, too, which kept us viewers awake at home.
Below are my own awards for the ceremony. The 2017 Nerdies go to:
Most smile-inducing musical number: OK, fine, there was only one number and that was the opening. Host Jimmy Fallon parodied La La Land but also referenced several memorable moments in movies and TV this past year, including what happened to Barb in Stranger Things and Jon Snow in Game of Thrones. He had help from singing stars like Amy Adams, Nicole Kidman, Evan Rachel Wood, and Sarah Paulson. I didn't even know the latter two could sing. They always play such serious roles, it was nice to see them have some fun.
Best upsets: Aaron Taylor-Johnson winning best dramatic supporting actor in movies and Isabelle Huppert for best dramatic movie actress. I've long admired Taylor-Johnson for disappearing into his roles; I hated his character SO MUCH in Nocturnal Animals, but in real life, he's well spoken and handsome and seems nothing like the lowlife he played. Huppert is a French legend, and though I'm too scared to watch Elle, I hear she's fierce as a rape survivor who tracks down her attacker for revenge.
Funniest banter: Kristin Wiig and Steve Carell talking about the first time they saw an animated movie. We quickly realize these occasions were memorable for horrible reasons. And that's how you do comedy.
Best speech, bar none: Meryl Streep. While accepting the Cecil B. DeMille award, instead of talking about herself, she spoke for five minutes about how we need to band together in this changing political climate to defend a free press and have empathy and not fear foreigners, pointing out Natalie Portman was born in Jerusalem, Amy Adams in Italy, Dev Patel in Kenya, and Ruth Negga in Ethiopia.
You can watch below or read the entire transcript here, but the standout lines for me were "Disrespect invites disrespect. Violence incites violence. When the powerful use their position to bully others, we all lose." When she ends by quoting "the dear departed Princess Leia, [who] said to me once: 'Take your broken heart, make it into art,'" I was in tears.
On to the fashion. For this, I'll bring in my co-commentator, Mr. PCN, who always adds a unique perspective.
Thandie Newton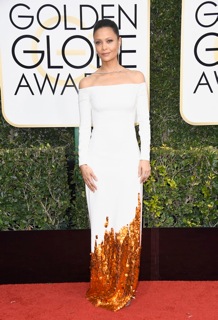 Mr. PCN: She's hot, as in she looks like she's literally on fire.
Jessica Chastain
Mr. PCN: She was a bridesmaid who caught the bouquet, but then other people fought her for it and the bouquet broke apart all her over dress.
Natalie Portman
Mr. PCN: I know she played someone from the '60s, but she doesn't have to look 60. The hair is too severe.
Zoe Saldana
Mr. PCN: Car wash.
Sarah Jessica Parker
PCN: With her hair and white gown, she's totally channeling Princess Leia.
Mr. PCN: The sleeves make me think the designer also designs straitjackets.
Blake Lively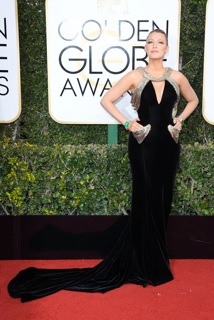 PCN: She looks like Wonder Woman in evening wear, with the bulletproof bracelets and pockets made out of golden lasso.
Mr. PCN: I see a golden octopus wrapped around her from behind.
Nicole Kidman
Mr. PCN: This looks one of those Magic Eye pictures from the '80s, but I can't see what the hidden image is supposed to be.
Emma Stone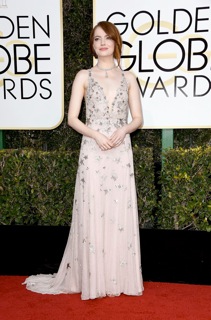 PCN: I saved the best for last. The actress who plays a girl with stars in her eyes is wearing stars on her dress. Perfection.
Did you watch? What were your favorite moments?
Photos: Getty Images