Happy Monday! Hope you survived all the chocolate eggs and ham, or Pad Thai if you celebrate Songkran.
Since it was Easter weekend, I didn't do much work. Read plenty, slept and ate even more, but didn't quite get around to finishing my reviews.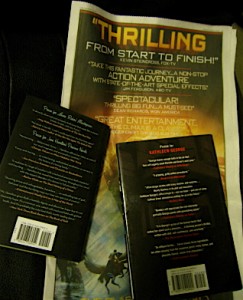 In thinking about them, though (I'm much more productive in my head), I came up with a Top 5 list of words/phrases that make my eyeballs roll when I see them in reviews. If you ever see these in mine, you have permission to send me hate mail.
"A roller-coaster ride." Seriously, have you ever said this in your life after seeing a movie or finishing a book? Besides, I hate roller-coasters. They make me sick.
"America's Sweetheart." This label has been slapped on everyone from Julia Roberts to Sandra Bullock to Meg Ryan to Jennifer Garner to Reese Witherspoon. Shouldn't the correct phrase then be "one of many members of the America's Sweethearts Club"? Plus, who determines this status? Sometimes I'll look at someone labeled thusly (not anyone mentioned above) and think, "She's not my sweetheart."
"Best movie/book of the year" when it's March. 'Nuff said.
"Breath of fresh air." I thought this was stale first time I heard it.
"Unputdownable." I just hate that word, and not because it's not a real one. I'm all for new words being coined and it was (maybe) cute the first few times, but after the 2,927th time, I'm done.
What about you? Is there a hokey phrase that will guarantee you won't buy a book if you see it on the cover?