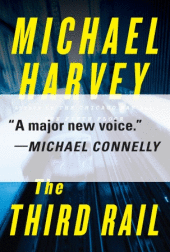 I'd just schlepped my way through a couple books that were dull and slow-moving so as I picked up Michael Harvey's The Third Rail, I thought, "If this doesn't grab me in three pages, I'm done." No worries there. The breakneck pace compelled me from the first, third, forty-seventh—all the way to the last page.
In this third novel featuring Chicago P.I. Michael Kelly, he's on the hunt for a sniper targeting random commuters on an L train and along a busy highway. After the killer (or an accomplice) makes a personal call to Kelly and delivers cryptic clues to his home, the detective starts wondering if the events may be related to an L crash thirty years earlier, one that Kelly happened to be in when he was nine years old. In a plot that never stops hurtling forward and taking unexpected turns, Kelly uncovers nefarious plans involving bio-weapons, greed, corruption and the Catholic Church.
Though I sped through Rail and enjoyed the ride—it reads like a '70s action flick starring Steve McQueen as Kelly—I realized afterward some things didn't make sense. Revenge is directed at a blameless person because the blamed party isn't available, and it's unclear what a sniper attack on Lake Shore Drive has to do with the 30-year-old L accident that occurred at a different location. (There are other spoilery head-scratchers I can't discuss.) I even asked my husband to read the book in case I missed something and he could answer some questions for me. He couldn't.
I think the problem stems from Harvey incorporating aspects of two real, unrelated incidents—a 1977 L accident and a 1993 Pentagon report called "Terror 2000"—into one story and they don't mesh seamlessly. Throw in the Catholic Church angle and there's a lot of ground to cover; two separate novels might have been a better idea (Harvey said in this Amazon interview a follow-up is possible). I take no issue with the ending leaving some threads untied—it adds to the sinister feel—but am confused by the lack of clarity and logic of the answers that were provided.
Nerd verdict: Third Rail zips by, but derails a few times along the way