When Jen over at Jen's Book Thoughts invited bloggers to participate in her Detectives Around the World theme week, I knew I wanted to write about someone from the Greek islands. Never mind that I'd never read or heard of any fictional detectives from there; I was determined to spotlight the most beautiful places I'd ever visited and I've been to Arkansas so that's saying a lot.
My initial Internet research turned up several novels that took place in the years Before Christ. Pass. I wouldn't know anything about Greek settings in those times and don't have any pictures of ancient bath houses or the Parthenon when it was new.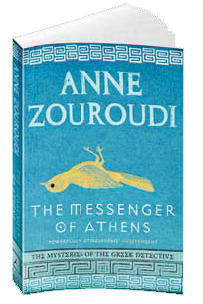 Luckily, I finally discovered Anne Zouroudi's series about a mysterious Greek detective named Hermes Diaktoros, named after the Greek messenger god with the golden winged sandals (AKA the FTD logo). Though the first three books are already available in the U.K., with a fourth coming out this summer (Zouroudi plans seven books for the series, each covering one of the Deadly Sins), the first installment, The Messenger of Athens, doesn't arrive in the U.S. until July from Reagan Arthur Books. It's about time, because this unique series is a welcome addition to crime fiction.
Messenger takes place on the imaginary island of Thiminos and begins with a young woman's battered body being found at the bottom of a cliff. The chief of police is quick to label it a suicide, but Diaktoros, an investigator from Athens who's referred to as "the fat man," arrives to dig more deeply into the case. No one knows who sent him, what his end game is, how he knows people's secrets, or why he's compulsive about keeping his tennis shoes pristinely white at all times. Though many try to avoid answering his questions, the fat man eventually unearths the real story behind the woman's death—one which involves the Deadly Sin of lust—and administers his own brand of justice.
This novel satisfied many interests for me: mysteries, Greek mythology, and everyday life on a Greek island (more on that later). In mythology, Hermes is Zeus's son, the messenger between the Olympian gods and humans. The fat man's evasiveness whenever someone asks who he's working for—coupled with other subtle clues—implies he's not just a namesake of the god. Don't worry if that sounds a little too mythological for you; Diaktoros is a stout, earthy presence, albeit one with slightly unusual methods of solving mysteries.
Zouroudi, who was nominated in 2008 for ITV3's Crime Thriller Awards for Breakthrough Author of the Year, has a timeless style evocative of Agatha Christie's, which is apropos for the setting. Thiminos is a remote island without modern trappings; life here is hard and the men are harder. Women are still considered as little more than baby producers and cooks. Irini, the victim, wanted more from life and instead ends up dead.
I mentioned earlier that this book addressed my curiosity about what it would be like to live on a Greek island. When I visited the islands in 2006, I was so overwhelmed by the beautiful vistas, I toyed with the idea of moving there (Zouroudi actually did this; she fell in love with the islands on vacation, relocated, married a Greek man and had a baby there before moving back to England). I chatted with locals about their lives and received candid answers about their struggles when tourist season is over. Zouroudi provides even more insight about the day-to-day existence, how being island-bound can breed despair in some people and fear of leaving it in others, how the landscape can be breathtaking yet harsh, how the old buildings I found gorgeous on the outside can be damp and drafty inside during the winter.
Reading Messenger of Athens (and about Greece's recent bankruptcy troubles) may have deterred me from Greek-island living for now, but I still feel the pull of the splendor I found there. Since that beauty partly motivated Zouroudi to write this series, I thought I'd share some personal snapshots in the slideshow below to illustrate what captivated both my and Zouroudi's heart. The book's Thiminos isn't real so my pictures are from Mykonos and Santorini, two of the prettier islands I visited. Maybe the photos will entice you to travel there someday or at least start reading the Greek Detective series.
For more on Detectives Around the World, be sure and visit Jen's Book Thoughts.
[cincopa 10581879]
Buy The Messenger of Athens from Amazon
Disclosure: I only get a small commission if you buy from Amazon. The indie link is for those who would rather eat glass than buy from Amazon.