Since this coming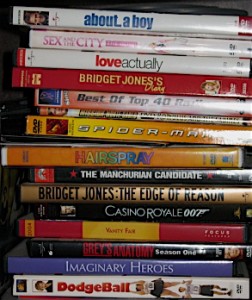 Sunday is Mother's Day, I've been thinking about what to get my mom. Which led me to thinking about movies about mothers and how DVDs would make great gifts.
But there are different kinds of mothers and you can't just buy The Hurt Locker for someone who loves Sandra Bullock comedies, or Avatar for a woman who likes good movies.
Therefore, I've devised the short quiz below to help you to determine what kind of mother you have and the corresponding flick she might enjoy.
1. In high school, if she found out you were being bullied, she would:
a) strap on a giant machine gun and go confront the offending kid's parents
b) call up the bully's house and make snarky comments to put the kid in his/her place
c) sing a song about how you should send out an S.O.S. next time it happens
d) sue the bully's family
e) tell you that suffering is part of life
2. If you got bad grades, she would:
a) say you have MUCH bigger things to worry about, like killer robots
b) say, "Oh well, at least you're not pregnant!"
c) tell you it's okay, you'll always have a job helping her run the family business
d) lecture you long and hard about how you might end up in a trailer park with babies by different daddies if you don't get your act together
e) tell you not to worry since you'd be married by 18 anyway. In fact, she'd already arranged your marriage for you.
3. Her relationship guideline is:
a) Make sure someone's not from the future before you sleep with them
b) You should wait until marriage to have kids, or at least until you're out of your teens
c) Don't date 3 people at once
d) You should date people with nice jobs, like in a law firm, but bikers can be nice, too
e) You must marry Asian!
4. Her career advice:
a) Acquire leadership skills and learn how to use heavy weaponry
b) It's cool if you just want to hang out, write songs and play guitar with your geeky friend
c) Don't run your own business because you'll work all night and work all day and still have nothing left
d) Work hard, stick to your convictions, but wearing a good push-up bra can't hurt
e) What career? Your job is to have babies and take care of your husband
5. Her life philosophy:
a) Trust no one
b) Never lose your sense of humor
c) Be open about your past, even if you were a little slutty
d) Don't be a f*cking hypocrite
e) Small feet are better
If your answers are:
Mostly a's—Your mom would love a copy of Terminator 2: Judgment Day. She'll enjoy another viewing of it while she polishes her M16s.
Mostly b's—I'd recommend a DVD of Juno as a thank-you for all those times she stood by you and didn't judge even though you screwed up.
Mostly c's—Your mother will feel a kinship with Meryl Streep's character in Mamma Mia! And since she's been working so hard, maybe you can throw in plane tickets to the Greek islands, too.
Mostly d's—Send your mom a copy of Erin Brockovich with a card telling her she'll always look fab in tight skirts and heels.
Mostly e's—Invite your mother over for dinner, making sure the table is set properly and the soup isn't too salty, and then present her afterward with a DVD of Joy Luck Club and the latest pictures of your 6 children, showing them playing piano or chess.
What will you give your mom?