The new Wizarding World of Happy Potter isn't officially open at Universal Studios Hollywood until April 7, but Mr. PCN and I received invitations to take an early peek this past weekend.
Let's go there together!
This is the entrance to Hogsmeade.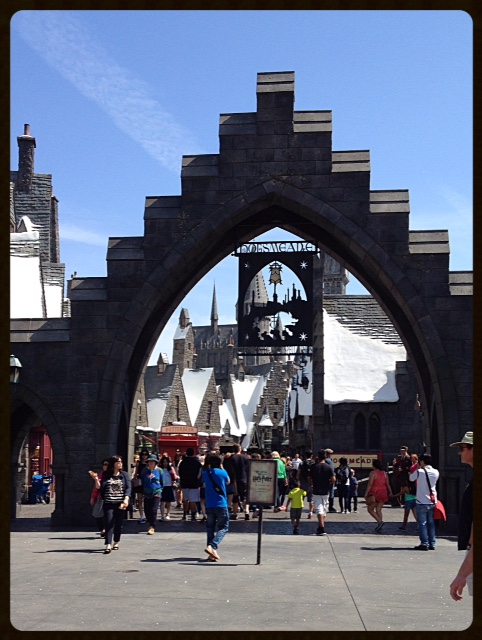 Right after I entered, I encountered this, ready to whisk me away to Hogwarts. (Not really—it's stationary.)
I've arrived at Hogwarts!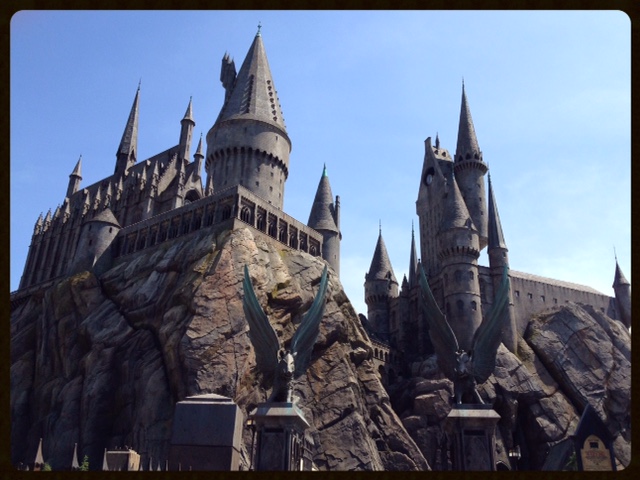 Time to get sorted into a house by the Sorting Hat. It actually moves and there's a voice inside telling you which house you belong in. I got Ravenclaw, whose members are known for their wit, wisdom, and cleverness. Sure, I'll take that. But everyone who put it on seemed to get the same result. I suspect the hat is rigged, or Ravenclaw will need a LOT of beds to house all its new members.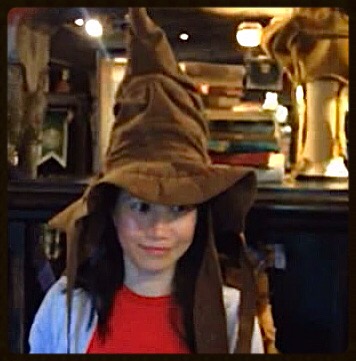 Next we went on a couple of rides—there are only 2 rides: Harry Potter and the Forbidden Journey, which is a 3-D experience, and Flight of the Hippogriff, a roller coaster.
The first one is fast paced, hurling you through the air, putting you in the middle of a Quidditch game, having you escape the Whomping Willow and giant spiders, making you come face to face with Dementors, etc. The Dementors are pretty scary, and I was like, "Uh-uh, don't you dare kiss me." I wouldn't recommend the ride for kids under 6.
It's odd how the visuals weren't sharp, though, and as rides go, it wasn't as good as the park's old Back to the Future and E.T. rides.
Flight of the Hippogriff is the shortest roller coaster ever, not necessarily a bad thing since I don't like roller coasters. I only went on this because it's deemed "family friendly," so I figured even a wimp like me could handle it. And it was an easy ride—over in what seemed like 60 seconds. I am not exaggerating.
After that, we visited some of the shops, starting with Ollivanders, "maker of fine wands since 382 BC."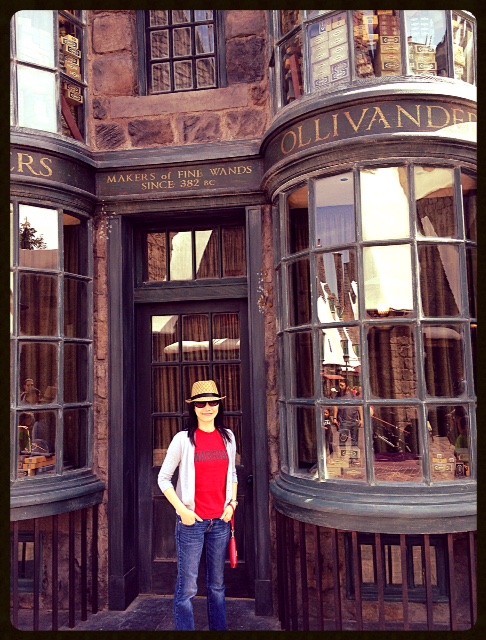 Inside, a shopkeeper picks a few kids from the group to participate in a demonstration of how wands choose their owners. There are a few small (underwhelming) special effects involved, and when it was over, the shopkeeper packs up the wands for the kids and reminds them to tell their parents that the wands have chosen them. My jaded self did an internal eye roll. How are parents supposed to say no to that?
I will say the interactive wands are pretty cool. I didn't get to try one, but I saw one girl using it to cast spells around Hogsmeade. These wands are programmed to work with predesignated windows in the area. You stand in front of the window, say the magic spell, and make things move inside.
See how it works in the video below, with James and Oliver Phelps (Fred and George Weasley) and Bonnie Wright (Ginny W.).
We walked around some more, I used the restroom, where you can hear Moaning Myrtle, and it was a beautiful day, but I couldn't escape a feeling of…rather, a lack of…wonderment.
I'm a hardcore HP fan, so I thought I'd be like a kid in a Honeydukes candy store. And I did go into Honeydukes. But I was underwhelmed. By everything.
I think the reason is that in my head and in the movies, Hogsmeade (there's no Diagon Alley here like at Universal Studios Orlando) is a place for wizards and full of magical things. Looking at the streets packed with Muggles pushing baby strollers and waving selfie sticks, I couldn't find the magic. There are many more shops and restaurants, all with overpriced items, than there are rides and attractions.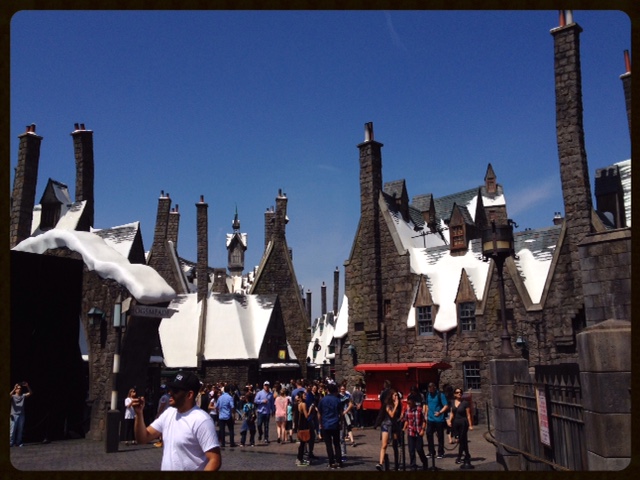 I considered the possibility I'm too old to be the target audience for this, but then remembered how awed I was when I attended my friend Mari's HP-themed Thanksgiving dinner a few years back. I felt more immersed in Harry's world there than I did today in a place that cost more than a billion dollars to build. Mari's version was reconstructed from pure love, while Universal is out to make money (ticket prices have been raised in anticipation of WWoHP's opening). Which it's allowed to do.
There's just nothing magical about that.