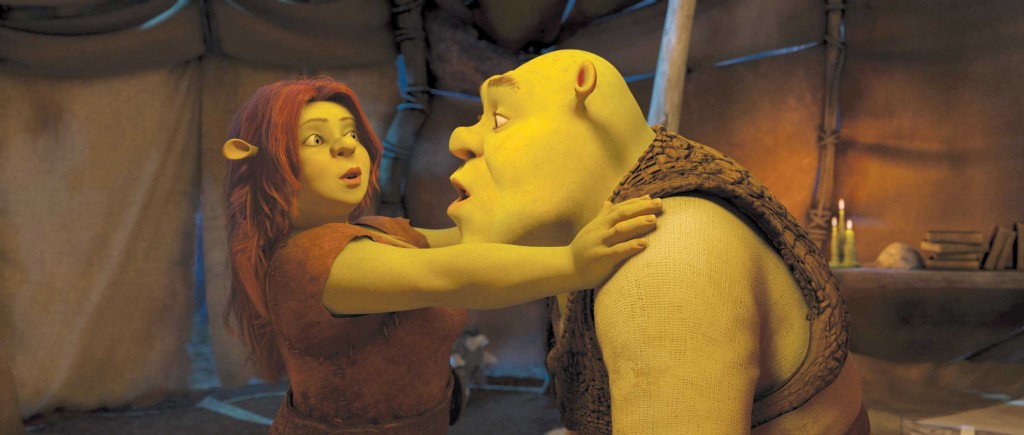 After the rubbish that was Shrek the Third, I thought if the filmmakers wanted to give us a happily ever after, they should stop making Shrek movies. My reaction to news about this fourth installment was, "Really?! Is it called 'Every Last (Henny) Penny Wrung'?"
So I don't know if it was because of my low expectations but Shrek Forever After (opening Friday, May 21) is better than I thought it would be, though it's not up to par with numbers 1 and 2 and really should be the last. It's as if everyone went back to the drawing board to rediscover why the movies were good in the first place and made a concerted effort to justify this sequel's existence. And that's what Forever After does—go back in time and ask the It's a Wonderful Life-ish question: What if Shrek (Mike Myers) had never been born and therefore never saved Fiona (Cameron Diaz) from the tower?
The situation stems from Shrek feeling too domesticated by his wife and three babies, fearing the loss of his true ogre-ness. He can't take a mud bath in peace, his roar no longer scares anyone and is treated like a party trick. Rumpelstiltskin (Walt Dohrn) comes along and promises Shrek one day in which he can be a carefree ogre again, without any familial responsibilities to blunt his edge. Shrek must give Rumpy a day from his past in exchange, so the evil R (I'm not typing that long-ass name over and over) takes the one when Shrek was born. This creates an alternate universe in which Rump rules Far Far Away with witches as sycophants and ogres as slaves.
But Fiona doesn't take the situation lying down. She has escaped the dragon's keep all by herself and become a leader of the revolution to overthrow Rumpy's tyranny. She doesn't have time for romance; she doesn't even know Shrek when he shows up. He has exactly one day to extract a true love's kiss from her before he turns into nothingness.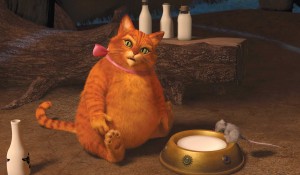 The movie is darker in tone than I remember the others being, with scenes of ogres in chains and Donkey (Eddie Murphy) being repeatedly whipped while used to pull a carriage. Though cowed, Donkey still has his trademark mouthiness. When he meets Shrek and thinks the ogre is going to eat him, he yells: "Eat my face last and send my hooves to my mama!" Puss in Boots (Antonio Banderas) probably gets the most laughs as a fat lazy cat no longer wearing his trademark footwear. And I must admit a badass chain-mailed Fiona throwing knives is more interesting than Housewife Fiona.
Myers, Murphy and Diaz turn in their reliable voice work (while stars like Jon Hamm and Jane Lynch are underused), but the cool backstory here is that Dohrn, the movie's story editor, got to voice Rumpelstiltskin. Early in production, Dohrn recorded temp tracks for the animators to use while drawing the character, fully expecting an actor to replace his voice in the final version. But DreamWorks Animation CEO Jeffrey Katzenberg apparently loved Dohrn's work and kept it in, putting his name up in lights next to the A-list stars'. I'd call that a fairytale ending.
Nerd verdict: Diverting Forever After
Animation courtesy DreamWorks