Oh. Mah. GAH!!
*Spoilers! Don't read if you haven't seen it!*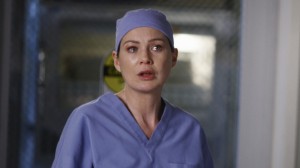 Not much on TV surprises me anymore but during the Grey's Anatomy finale last night, I jumped as if my pants were on fire. The first time Gary Clark (Michael O'Neill) pulled out his gun and just put one right between Reed's eyes? Craaaazy! I knew it was coming but it was still so shocking. I might need to buy a new chair or at least replace the arms I shredded with my nails during intense scenes.
This episode made me glad I stayed with the show through the uneven seasons and botched storylines (anything revolving around Izzie); it proved Grey's can still be heartstopping drama. I think this ep topped the ones with the bomb in the chest and the pole through two people from the train crash, both standouts from past seasons. For two hours, I barely breathed and just watched in horror as the gunman went on a rampage at Seattle Grace, mowing down innocents right and left. With Cristina (Sandra Oh) unknowingly giving him directions straight to Derek's office! April drives me nuts sometimes with all her neuroses but Sarah Drew turned in powerful work (e.g. her reaction when she discovered Reed's body), as did most of the cast. My guts were wrenched as Meredith (Ellen Pompeo) sobbed when she thought Derek (Patrick Dempsey) was dead, and then had to stay focused to treat Owen (Kevin McKidd) as her baby just died inside her. I did like how she and Cristina had to save each other's man (the women ruled!), and I'm looking at Dr. Avery (Jesse Williams) with new eyes now that he stepped up and pulled that trick on Clark with the wires.
If I had to be super picky, I didn't like how Arizona (Jessica Capshaw) had a complete turnaround at the end about wanting kids. She'd been so dead set against the idea and all of a sudden, she decided she wanted 10 children with Callie (Sara Ramirez). She just went through a seriously traumatic episode so I'm not sure how sound that decision was. I'm also not certain that Lexie (Chyler Leigh) loves Karev (Justin Chambers) instead of Sloan (Eric Dane). But these are little things. Overall, Shonda Rhimes kept me riveted without resorting to any special effects; she used good old-fashioned storytelling and that's what made it special.
What did you think of the episode?
Nerd verdict: Heartstopping Anatomy finale
Photo: ABC/Scott Garfeld