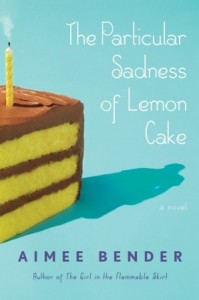 Aimee Bender's The Particular Sadness of Lemon Cake is a bittersweet piece of literature that is both filling and light, with a satisfying secret ingredient I'm not sure I can identify but am happy to consume.
Right before her ninth birthday, Rose discovers she can taste her mother's despair in the lemon cake she made. Besides the shock of realizing she now has this strange ability to taste people's true emotions in the food they create, Rose is surprised to learn how her mother really feels beneath her always sunny facade. Turns out everyone in her family has secrets—her genius brother who often seems to disappear into thin air, her father who has a strange aversion to hospitals—and Rose just isn't prepared to know them. She goes out of her way to consume only factory-processed foods, e.g. snacks from the school vending machine, as she tries to navigate life while knowing—and feeling—too much about the people around her. The most important revelation comes when she finally eats a meal she cooks herself.
I feel as if I didn't just read this book; I absorbed it. It washed over me in a lovely, melancholy way that left me moved but not sad. It deals with unrequited love, unfulfilled potential and imperfect family dynamics, but all are ingredients of life and I could only nod and think, It happens. Though it contains magical realism, many scenes and emotions ring very true. Bender has a way of stringing ordinary words together to form enchanting sentences that made me envy her skill. In Rose, she has a vulnerable yet resilient character who may have an extraordinary power but is absolutely relatable in her struggles to find her way and place in the world.
Thanks to Doubleday, I'm giving away two copies of this book. That's right, it can be yours for the incredible price of FREE.
To enter:
be a subscriber or Twitter follower (tell me which—new subscribers/followers get 1 entry, current ones get 2, you get 3 if you tweet about this)
leave a comment about what emotions you'd taste if you had Rose's power and ate your own cooking right now (I'd taste wanton lust for a beautiful house I just saw that's way out of my price range)
have U.S. address, no P.O. Box, per Doubleday's request
Giveaway ends Monday, July 19, 5 p.m. PST. Winners will be randomly chosen via Random.org and only announced here and on Twitter. I will not contact you personally so please check back to see if you win. Winners have 48 hours to claim the prize before alternate names are chosen.
Now, let's hear how tasty your cooking is!