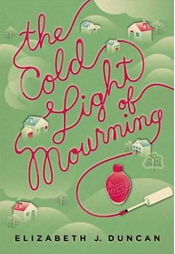 Mystery books often have dark, ominous-looking covers full of shadows and doom. So you know you're in for something different when you pick up Elizabeth J. Duncan's debut mystery novel, The Cold Light of Mourning. The cover is dewy green with the title spelled out in red fingernail polish.
It's a clue to the profession of the book's protagonist, Penny Brannigan, who owns a manicure salon in a Welsh village called Llanelen. Penny is an expatriate Canadian who had stumbled upon Llanelen on a backpacking trip twenty-five years earlier, fallen in love with its beauty and decided to stay. The story begins with the death of her longtime friend, Emma Teasdale, and the disappearance of a bride on her wedding day. Penny had done the bride's nails that morning and may have been the last person to see her. She teams up with a friend and a couple of inspectors to solve the case, working from intuition and making sharp observations of details even the seasoned cops would have probably missed.
If you like your mysteries with a high body count and bullets flying, this probably isn't for you. But if you're a fan of the kind of gentle mysteries that Alexander McCall Smith writes, this would be your cup of tea. Winner of the Minotaur/Malice Domestic Best First Traditional Mystery Novel award, the story is more a celebration of Llanelen's charms and a study of its quirky denizens. It's a tribute to the strength and vitality of women who are no longer in their 30s and who prefer sensible shoes to Jimmy Choos. At one point, one character bemoans how middle-aged women are treated like they're invisible. The way Duncan paints them, they're colorful and very much alive.
Nerd verdict: A cozy Light