**SPOILERS**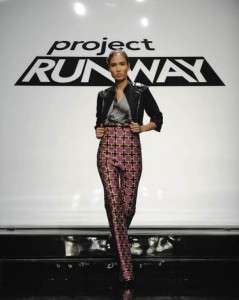 Last night's episode of Project Runway was probably the most emotionally resounding episode in the entire series. I was sitting there admiring Mondo's bold textile design of plus signs on a bright fuchsia background when he revealed what it represented: his HIV-positive status. And then he said he'd been keeping that secret for over 10 years and even his mother, who visited him during the episode, didn't know.
Wow. Talk about a personal inspiration for a design. What made it so moving for me was the print being so bold and bright (though I would've liked it better on a skirt instead of pants). If you didn't know the story behind it, you might think it's whimsical. Mondo's refusal to be somber about his status gutted me.
During the judging, I really, really didn't want Mondo to tell the judges his story, despite Nina Garcia's prompting. It didn't feel right for him to reveal his secret to the world before confiding in family. I also didn't want him to milk the story for sympathy votes and I admired him when he held firm.
But then he did it—he disclosed the reason for the plus signs. At least he waited until after the judges already fawned over his design. And then he cried and said he felt free—who can begrudge him that? I only hope he went home and told his mother after the taping so that she didn't have to learn about it from watching TV.
What did you think of Mondo's revelation? Think he'll be in the final three?