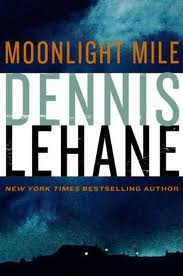 Two years ago, Dennis Lehane said in this Entertainment Weekly article that it was unlikely he'd write another whodunit and was pretty much done with Patrick Kenzie, one of the protagonists in the author's popular PI series about a pair of Boston detectives. He says, "My publishers, they've been clear if I ever wrote one, they'd back a truckful of money onto my driveway, but I don't want to be the guy who goes back to the well just so I could buy another house."
So, when I heard that Lehane's next novel, Moonlight Mile (William Morrow, Nov. 2), is indeed about Patrick and his partner Angie Gennaro, I was partly elated as a fan of the series and partly skeptical, thinking, "Maybe the publishers sent in TWO trucks of money?"
I needn't have worried—Moonlight is no sellout novel for a vacation home in Bora Bora. It's a strong addition to the series, dealing with the aftermath of events in Gone, Baby, Gone. Twelve years after Patrick and Angie went looking for four-year-old Amanda McCready in that earlier novel, her aunt Bea is back saying Amanda has disappeared again. According to her teachers' testimonials, Amanda is a stellar student on her way to a full scholarship to an Ivy League school and a bright future far from the miserable existence she has endured with her worthless mom, Helene. The consensus is Amanda wouldn't run away with so much at stake. The situation is further complicated when Russian thugs enter the picture and Bea discovers that Amanda might be trying to assume a false identity.
Having found Amanda once before, Patrick goes looking for her again, faced with subtle accusations from others—Angie, included—that he could've helped Amanda avoid this whole mess if he hadn't done what he did twelve years ago.
Lehane once again proves he writes the kind of crime fiction that explores societal mores as well as any literary novel can, and with wit and snappy pacing to boot. He said in that EW article that he was losing interest in writing whodunits because he was tiring of "whipping out the kitchen sink just to obscure s—, like the identity of the serial killer or whatever." Well, this book isn't about hidden identities (though there are some fake ones). Lehane is more interested in examining the conundrum of how one can do the right thing and still be wrong, how there aren't easy answers to impossible situations. As Patrick explains to someone, "I know damn well I don't want to live in a world where people can just pluck a child out of a family they deem bad and raise a stolen child as they see fit." In defense of his actions regarding Amanda twelve years ago, "It was a case of situational ethics versus societal ones, I guess. I took society's side."
Patrick's position is even more understandable considering he has a family now. He and Angie are married with a four-year-old daughter (the same age as Amanda when she originally went missing) and worrying about things like health benefits and job security. Angie is working towards a master's in sociology while Patrick questions the toll his work has exacted from his conscience, wondering if he's doing more harm than good. When he shows a woman a picture of Amanda and asks if she's seen her, he's shocked by the vitriol the woman spews in response:
You asked a simple question lately or made an innocuous aside and suddenly you were the recipient of a howl of loss and fury. We no longer understood how we'd gotten here. We couldn't grasp what had happened to us. We woke up one day and all the street signs had been stolen, all the navigation systems had shorted out. The car had no gas, the living room had no furniture, the imprint in the bed beside us had been smoothed over.
But Patrick and Angie's world isn't all melancholia. They still have a sexy banter, their dealings with their daughter are amusing, and Lehane leaves them in a hopeful place, a temporary refuge from the darkness, a hard-earned life that may be imperfect but not without its sweetness.
Nerd verdict: Sharp, beautiful Moonlight