Summer starts in June, so I'm looking forward to more time for pleasure reading. Oh, who am I kidding? I'm self-employed and make myself work every day.
But for those who do get to take summer vacations, here are the June releases my blogger pals and I recommend. I'm giving away one of these books. Read on to find out more.
From Jen at Jen's Book Thoughts:
My Grandmother Asked Me to Tell You She's Sorry by Fredrik Backman (Atria Books, June 16)


Fredrik Backman's follow-up to his amazing debut, A Man Called Ove, proves he is the real deal when it comes to writing superb novels. My Grandmother incorporates his hiccup-triggering humor, heartwarming compassion, splendidly quirky and complex characters as well as universal themes about the beauty of life and the pain of loss.

Elsa, a precocious seven-year-old who doesn't really fit in with other kids her age, finds joy in the fantasy world of the "Land of Almost-Awake" with her grandmother. But when her grandmother dies of cancer, the lonely, grieving girl finds herself on the most monumental adventure ever, contrived by her grandmother before she dies. The life lessons Elsa's grandmother bequeaths her through the exploits of the scavenger hunt are relevant to children 7 or 70.

Backman's language is breathtaking, creating art with metaphors. And dialogue is splendidly natural and authentic, evoking a rainbow of emotions that mirror the characters'. The layers of the plot and levels of symbolism make this a keeper of a book to read and reread, and walk away with something extraordinary and new every time.

A Force for Good by Daniel Goleman (Bantam, June 23)


Daniel Goleman, a longtime friend of the Dalai Lama, outlines the Tibetan monk's inspiring vision for changing the world with genuine compassion. A Force for Good is not a religious book; it's a plan for humanity that incorporates science, economics, education, and more. Goleman shares experiences the Dalai Lama has had as well as evidence and anecdotes from others, all supporting his platform of compassion over greed, violence, and fear.

Many books of this ilk create inspiration but leave their readers wondering what they can do. A Force for Good offers ideas that every individual can work with and build on, ranging from things that help the environment to things that help the less fortunate. Good is a long-range, global plan from a brilliant futuristic thinker, so this is a book that can be of value to any human living on Earth. When you're ready for a jolt of optimism, pick up this book.
From Rory at Fourth Street Review:
Paradise Sky by Joe R. Lansdale (Mulholland Books, June 16)

Despite his life being glamorized throughout dime novels, Deadwood Dick needs to set the record straight—including how he got his name, how he saved Wild Bill Hickok, and how his life changed by looking up at exactly the wrong time.

Willie Jackson was born in East Texas and spent his childhood in slavery. The war between the states changed that, but not enough to make survival easy. Caught looking at a white woman's backside, Willie inadvertently steals what may be the slowest horse in East Texas to escape said woman's furious husband. Escape he does, barely, but his father and farm do not.

From there, Willie is kindly taken in, nearly caught again, and then begins a new life as Nat Love, and then eventually Deadwood Dick. Joe R. Lansdale truly is a master storyteller and Paradise Sky is no exception. It's delightful, funny, and full of the best tall tales. I would highly recommend adding this to your summer reading list.
From Lauren at Malcolm Avenue Review:
Freedom's Child by Jax Miller (Crown, June 2)

Jax Miller's impressive debut is a hard and fast cross-country trip through a family tree full of violence, betrayal, and vengeance. Freedom Oliver has been in witness protection for 18 years when she finds out her daughter, Rebekah, is missing. Freedom gave birth to Rebekah during her two years in prison for killing her husband, and never saw Rebekah again. Throwing a wrench in the works is brother-in-law Matthew Delaney's release from prison after 18 years, where he was doing time once Freedom turned the tables and implicated him in brother Mark's murder.

Not sold yet? Throw in three more Delaney brothers; their 600-pound, coke-dealing matriarch, Lynn; Rebekah's brother (and Freedom's son) Mason; and Mason and Rebekah's adoptive parents, who run the church from which Mason was shunned and Rebekah might have been trying to escape. The Delaneys are out for blood, Freedom and Mason (who also haven't seen each other for 18 years) want to find Rebekah, and all paths are bound to meet up at a bloody intersection. Fast and lean with few missteps, Miller's debut is a gritty but worthwhile ride.
From PCN:
The Little Paris Bookshop by Nina George (Crown, June 23)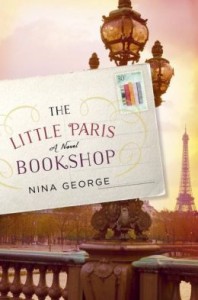 Jean Perdu runs a Parisian bookstore called Literary Apothecary. What makes it different is that it's on a barge moored on the Seine, and Jean doesn't just sell books, he prescribes them. He can read customers' emotional needs and give them the best book(s) to make them feel better.
The irony is that he doesn't have the same insight about himself, and has spent the last 21 years emotionally blocked due to heartbreak from a failed love affair. He unmoors the barge one day and, along with a famous novelist experiencing writer's block, goes on a journey to find himself.
The novel makes charming and witty observations about books, how they're not merely a "balm for the soul" but "freedom on wings of paper." Mentions of good food also abound, and George provides recipes at the end of the book, as well as "prescriptions" for readers, e.g. Elizabeth von Arnim's The Enchanted April being recommended "for indecision," with side effects including "falling in love with Italy." Bookshop is a prescription for those looking to escape to France and vicariously indulge in books and fine dining.
As promised, one of these books is up for grabs. I'll try to make it a regular feature—giving away one of the recs on the NSL every month.
This month's prize, thanks to Atria Books, is My Grandmother Asked Me to Tell You She's Sorry. To enter, leave a comment telling me something your grandmother has told you. Fanciful lies are accepted.
Giveaway ends next Friday, June 12, 9 p.m. PST. US addresses only, please. A randomly chosen winner will have 48 hours after notification to claim prize before an alternate winner is selected.