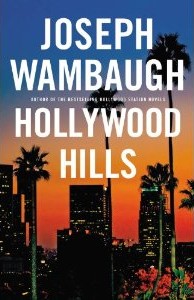 Little, Brown is releasing Joseph Wambaugh's Hollywood Hills on November 16 but generously letting me throw three copies out into the crowd now. This is the latest in the author's Hollywood series which started with Hollywood Station and it features characters from the previous novels.
The product description:
The legendary Hollywood Hills are home to wealth, fame, and power–passing through the neighborhood, it's hard not to get a little greedy.

LAPD veteran "Hollywood Nate" Weiss could take or leave the opulence, but he wouldn't say no to onscreen fame. He may get his shot when he catches the appreciative eye of B-list director Rudy Ressler, and his troublemaking fiancée, Leona Brueger, the older-but-still-foxy widow of a processed-meat tycoon. Nate tries to elude her crafty seductions, but consents to keep an eye on their estate in the Hollywood Hills while they're away.

Also minding the mansion is Raleigh Dibble, a hapless ex-con trying to put the past behind him. Raleigh is all too happy to be set up for the job–as butler-cum-watchdog–by Nigel Wickland, Leona's impeccably dressed art dealer. What Raleigh doesn't realize is that under the natty clothes and posh accent, Nigel has a nefarious plan: two paintings hanging on the mansion's walls will guarantee them more money than they've ever seen.

Everyone's dreams are just within reach–the only problem is, this is Hollywood. A circle of teenage burglars that the media has dubbed The Bling Ring has taken to pillaging the homes of Hollywood celebutants like Paris Hilton and Lindsay Lohan, and when a pair of drug-addled young copycats stumbles upon Nigel's heist, that's just the beginning of the disaster to come. Soon Hollywood Nate, surfer cops Flotsam and Jetsam, and the rest of the team at Hollywood Station have a deadly situation on their hands.

Hollywood Hills is a raucous and dangerous roller coaster ride that showcases Joseph Wambaugh in vintage form.
Want a copy? To enter, leave a comment telling me which Hollywood home you'd like to, ah, sneak into if you were a member of the Bling Ring. Me, I'd like to see the inside of Spielberg's home because he might have cool memorabilia from his movies. If the Ark of the Covenant is just sitting around in the den, I'm taking it for sure.
To be eligible, you also have to:
be a subscriber or Twitter follower (tell me which)
have U.S./Canada address (no P.O. boxes)
Giveaway ends next Monday, Nov. 8, 5 p.m. PST. Winners will be randomly selected then announced here and on Twitter. I won't be e-mailing you so please check back to see if you win. Alternate winner(s) will be chosen for any prize(s) not claimed within 48 hours.
Now, let's hear your thieving hypotheticals!