This review originally appeared in Shelf Awareness for Readers, and is reprinted here with permission.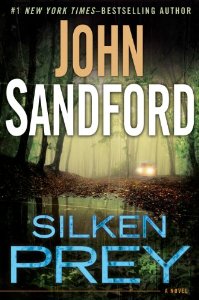 John Sandford's Silken Prey finds Minnesota law enforcer Lucas Davenport entangled in deadly political machinations, when the governor asks him to clear the name of a state senator caught with child pornography on his computer only days before the election. Lucas's investigation leads him to the disappearance of a political fixer named Bobby Tubbs, known for his dirty tricks. No one has seen Tubbs since the day the child porn was discovered, and he's soon presumed dead by Lucas and his colleagues at the Bureau of Criminal Apprehension.
Lucas suspects Tubbs was working for the beautiful, young, and rich Taryn Grant, the opposing candidate in the senate race, and planted the porn as a smear tactic. Trouble is, he has no proof, and Grant's bodyguards are a pair of former special ops guys—trained killers, they're proud to admit—prepared to eliminate anyone getting in the way of Grant's ambition.
Sandford's sharp, lean writing makes even politics seem interesting, and though this is the twenty-third in the Prey series, readers should have no problem jumping right in. Davenport is a winning character, a smart investigator with a stable home life and dry sense of humor. His colleagues are amusing, too, each with a distinct personality, especially Virgil Flowers, the long-haired, cowboy-boot-wearing agent who has his own series of novels when not helping Davenport solve cases. Sandford's fans will also recognize two lead characters from yet another series playing integral roles here. It's like Sanford's All-Stars, assembled in one fast-paced, entertaining read.
Nerd verdict: Silken writing