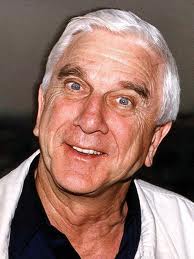 I was sitting in my living room, laughing about something, when I looked over at my computer and saw the news that Leslie Nielsen had died Sunday at 84 of complications from pneumonia. My laughter got stuck in my throat and turned into a lump. This was confusing to me because if this man ever made me cry before, it was from laughing too hard.
I'll admit I didn't know him from his earlier dramatic work, such as guest starring on TV shows like Barnaby Jones, S.W.A.T., Hawaii Five-0, Columbo, and The Streets of San Francisco, all of which I watched as a child. But I clearly remember the afternoon I went to see Airplane! at the movie theater. Nielsen's stern-faced, clueless Dr. Rumack helped me understand the term "crack me up" because I thought my bladder would split from all the laughter. And I have very strong, camel-strength bladders, mind you.
My fandom followed Nielsen to his Police Squad! series, in which the actor delighted me by making his Lieutenant Frank Drebin even more of a dunce than Dr. Rumack. I threw a tantrum when the show was criminally canceled after only six episodes and then rejoiced when it was brought back on the big screen as The Naked Gun movies.
I know Nielsen's career spanned six decades and encompassed much more than these comic highlights. He never stopped working; his last credit is voicing an untitled animated movie with a 2011 release date. But I appreciate him most for all the hilarity he brought into my life. I don't think Dr. Rumack managed to help many patients with his ineptitude, but if laughter truly is the best medicine, then Leslie Nielsen kept legions of fans in very good health.