I hope you all had a wonderful weekend whether or not you celebrated Thanksgiving. I think we should treat every weekend as a holiday, and by that I mean we should sleep in, never change out of our pajamas, do movie marathons and behave in a general lazy manner.
But it's Monday so let's get down to business.
First, let's get the winners of The Harry Bosch Novels: Volume 3 out of the way. The three randomly selected names are:
Laura Benedict

jenn

Jann
Congrats! Please hit the "contact" button at top of page or red envelope icon in sidebar on right and let me know where you'd like your books sent. If I don't hear from you by Wednesday midnight PST, alternate winner(s) will be selected.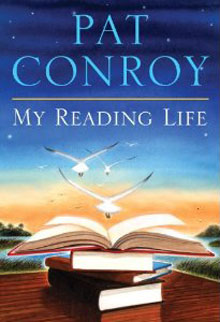 If you entered but didn't win, don't despair. I thought I'd go ahead and post my next giveaway now since the holidays are approaching fast and it might be nice for you to win a gift for someone or yourself.
I have up for grabs two copies of Pat Conroy's My Reading Life, a recent release from Doubleday. From the dust jacket:
Starting as a childhood passion that bloomed into a life-long companion, reading has been Conroy's portal to the world, both to the furthest corners of the globe and to the deepest chambers of the human soul. His interests range widely, from Milton to Tolkien, Philip Roth to Thucydides, encompassing poetry, history, philosophy, and any mesmerizing tale of his native South. He has for years kept notebooks in which he records words and expressions, over time creating a vast reservoir of playful turns of phrase, dazzling flashes of description, and snippets of delightful sound, all just for his love of language. But reading for Conroy is not simply a pleasure to be enjoyed in off-hours or a source of inspiration for his own writing. It would hardly be an exaggeration to claim that reading has saved his life, and if not his life then surely his sanity.
I haven't had a chance to read this yet but intend to soon. I always love hearing about how people's reading life began.
To enter, leave a comment telling me what/who first got you interested in books. You also have to:
be a subscriber or Twitter follower (tell me which if you've never left a comment or entered a giveaway before)
have U.S./Canada address (no P.O. boxes)
Giveaway ends next Monday, Dec. 6, 5 p.m. PST. Winners will be randomly selected then announced here and on Twitter. I won't be e-mailing you so please check back to see if you win. Alternate winner(s) will be chosen for any prize(s) not claimed within 48 hours.
Now, tell me about your beautiful reading life!