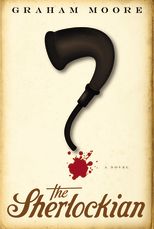 Graham Moore's debut novel, The Sherlockian, should delight die-hard Sherlock Holmes fans with its nerdy Holmesian goodness, while providing engrossing mysteries for those less familiar with the Canon as well.
Told in alternating chapters between the turn of the 20th century and the present, the book tells two parallel stories. The first is of Arthur Conan Doyle's investigation into the case of a serial killer, and the second is about a contemporary Sherlockian named Harold White trying the solve the mysterious death of a leading Sherlock Holmes scholar, Alex Cale.
Cale claimed he'd found the long-lost diary of Conan Doyle, but on the day he's scheduled to present it at a meeting of the Baker Street Irregulars, Cale is found dead in his hotel room and the diary is nowhere in sight. Furthermore, there are clues in the room that are straight from Holmes stories.
The historical chapters reveal what Holmes's creator was doing during the time period covered in the journal (the last few months of 1900) and why the record of his activities went missing in the first place. We also get to see what inspired Conan Doyle's method for killing off his famous detective in 1893 and what convinced him to bring Holmes back in 1901 with The Hound of the Baskervilles.
Moore's passion for the Canon is evident on every page and he has done an amazing job weaving fact with fiction; he tells you which is which in the author's note at the end. If you've read David Grann's New Yorker article called "Mysterious Circumstances" (also featured in Grann's book called The Devil and Sherlock Holmes) about the real-life death of a leading Sherlockian named Richard Green, you might have a clue about how Cale was killed.
This takes away none of the fun, though; it's mighty entertaining to see this and many other facts about Conan Doyle and Sherlock Holmes re-interpreted in a fictional context. If you don't know anything about the great detective, you won't be lost because Harold conveniently explains everything to his companion, Sarah, a reporter who tags along for the scoop.
One problem I had with the book was that Conan Doyle is a much more fascinating character than Harold. I sometimes got impatient with the 2010 chapters because Harold is dull and has no romantic spark whatsoever with Sarah, though we're meant to believe an attraction is forming. He's a necessary device to elucidate the Holmesian details but he's kind of a pushover, allowing Sarah, who behaves in a dodgy manner from the start, to butt her way into the investigation without much of an explanation. She's there to represent readers less familiar with Holmes, asking all the pertinent questions, but otherwise doesn't hold much interest. In the end, Harold does something that I highly doubt such a devoted Sherlockian would do. It's a stretch to say his motive is understandable but his action does not seem plausible at all.
Conversely, I greatly enjoyed being in Conan Doyle's company, getting a glimpse of his life as he struggles against being overshadowed by his own creation. His hissy fits about how he's a better man than Holmes are rather funny. He at least makes a much more convincing amateur sleuth than Harold, perhaps because Conan Doyle really did consult for Scotland Yard on many real-life crimes. His friendship with Bram Stoker (his real-life Watson?) is amusing, with the latter lamenting about how his character of a bloodthirsty count from Transylvania "didn't inspire the imagination of a people as did your Holmes. He was my great failure." The Sherlockian, on the other hand, is definitely a success.
Nerd verdict: An engaging, far-from-elementary Sherlockian