Originally reviewed for Shelf Awareness, printed here with permission.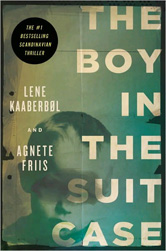 When Nina Borg agreed to do a favor for her friend Karin and pick up a suitcase from a train-station locker in Copenhagen, she never imagined she'd find a naked and drugged three-year-old boy inside. Who is he? Why was he stuffed in the suitcase? Was he being removed from an abusive household? Instinctively deciding she can't go to the police, Nina tracks down Karin, who has fled from her home. But before Nina can get answers, Karin is murdered and Nina goes on the run, pursued by Karin's killer, who will kill again to get his hands on the boy.
The Boy in the Suitcase (Soho Crime, out Nov. 8), first in a bestselling Scandinavian series, is told from alternating POVs but the central figure is Nina, a Red Cross nurse who goes to considerable lengths to help strangers but sometimes neglects her husband and children. This makes her more a relatable everywoman than a superhero, and she does have a compelling reason for her behavior. The story actually encompasses several different types of mothers, all struggling to do the right thing but sometimes at great personal cost.
Authors Kaaberbol and Friis imbue the characters with a duality that elevates them from being crime-fiction stereotypes. A prostitute can bond easily with the boy, a nasty aunt can be sympathetic, and the villain's motive for violence is more idealistic than evil. It makes the novel as much a character study and social commentary as a heart-in-throat thriller that should resound with readers long after Suitcase is tucked away.
Nerd verdict: Crack open Suitcase
Buy it from Amazon
| Buy from IndieBound