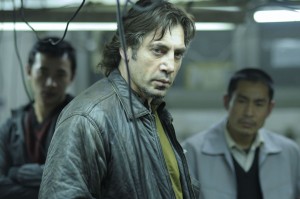 If you're familiar with Alejandro González Iñárritu's past work—Babel, 21 Grams, Amores Perros, etc.—you probably suspect that the title is ironic because there's very little about Biutiful that's beautiful. It's a relentlessly bleak film about a grifter dying from cancer who's trying to ensure his two young children will be taken care of after he goes. Uxbal's shady dealings involve Chinese sweatshop workers making knockoff bags and Senegalese dealers who sell them. He also has a gift for seeing the dead and charges people a fee for communicating with their departed loved ones. Through it all, Uxbal is searching for some kind of redemption and I won't spill whether or not he finds it but will say that the movie is redeemed by Javier Bardem's so-deep-inside-the-character-he-disappears portrayal of Uxbal.
Bardem says in the post-screening Q&A (more details below) that when Iñárritu asked him to do the movie, he didn't just ask him if he wanted to play Uxbal, he asked if Bardem would like to go on a life journey and that's a more accurate description of what the actor put on screen. We can almost see Uxbal dying from frame to frame, his body deteriorating as his desperate need to protect his children grows more intense. Bardem's amazing work ranks among the best of 2010, right up there with Colin Firth's in The King's Speech and James Franco's in 127 Hours, but I don't know if he'll get as much as love from Oscar voters who might hesitate to sit through two and a half hours of such depressing stuff. With subtitles.
Set in a much uglier part of Barcelona than the Woody Allen movie about Vickie and Christina, Biutiful covers weighty themes such as spirituality, a father's love, mortality, bipolarity, and the immigrant experience. Any of these topics could fill a whole movie but Iñárritu wanted to put them all in this one. I respect his ambition but the film ends up being rambling, with too much happening to too many characters, all of whom we'd care about more if only we get to spend more time with each. I often wanted to stay with Uxbal's two children, heartbreakingly played by Hanaa Bouchaib and Guillermo Estrella (above), but instead got wrenched away to unnecessary scenes like Uxbal getting wasted in a nightclub or a clandestine gay love affair between two minor characters. Bardem does heavy lifting as the anchor and narrative throughline but he can only do so much.
After the screening I attended, Bardem came out to do Q&A and was a stark and welcome contrast to his character. The actor, looking healthy, handsome, and 10 years younger than Uxbal, bounced out onto the stage, full of energy and good humor. When the audience gave him a standing ovation for his performance, he said, "I'm not that old!" After confirming it was a SAG screening and he was in a room full of actors, his reaction was, "I'm in deep shit! I can't pretend with you guys!"
Bardem spoke at length about his intense process for Biutiful, alternating between jokes and a serious sense of devotion to his craft. Some highlights:
The shoot was 5 months, 6 days a week, 14 hours a day with 3 months of prep before production started. Day 2 of shooting was the scene in which Uxbal received the bad news about his cancer and Iñárritu did many takes. "I died 100 times!" Maintaining that emotional state for so long made Bardem feel lost. It took him about 6 or 7 months after production wrapped to completely leave Uxbal behind. Reactions in his life were not his, they were Uxbal's. He started feeling a little anxious, like his life was going too fast. "But it's worth it," said Bardem. "We don't choose what we do; we need to."
He was very concerned for the child actors who played his kids since they had to perform such sad scenes. He was often torn between staying in character and clowning around with them between scenes to lighten things up. But he eventually found the kids were okay "jumping in and out of the fiction." It reminded him of playing during recess at school when he was 5. When the teacher said he had to go back to class, "I didn't say, 'Wait, I [need a moment] to leave my character behind.'"
In contrast, "On No Country for Old Men, I felt nothing and they gave me an Oscar! I was speaking English!"
He told a funny story about working "for six hours" with Michael Mann on Collateral, his first movie in English. Mann spoke in such a low voice, Bardem, already struggling with the language, had no idea what the director wanted. Too intimidated to ask Mann to repeat himself, Bardem would nod and do the scene. Mann would come over and say something else, again unintelligible to the actor. This went on for 30 takes before Mann finally said, "THAT's what I wanted!"
In discussing Uxbal's gift for communicating with spirits in the movie and whether he believed in such things, Bardem said his father died when the actor was 26. Bardem refused to believe he'll never see his dad again but doesn't believe in institutions that have created whole worlds after death. In his research, he spoke with three women who told him his father was present. They told him things his father would know, in ways his father would say them. But he didn't want to give in "to give it too much power. We have to live life; everything is not written."
He also talked to immigrants for research. They opened their homes to him and he stayed with them. It became an emotional experience for him, "not just an intellectual idea."
When a woman from the audience asked him a question in Spanish, he jokingly translated by saying, "When am I going to do porno? They fired me!"
He enjoys watching his movies. "I like to watch my stupid big face on screen!"
Bardem's mother is 71 and has been working as an actress since she was 15. His grandparents were actors during a time when they couldn't be buried on sacred ground. "We are excellent prostitutes!" Bardem joked. His mother didn't want him to be an actor "but at the end of the day, the only thing important is the work. Don't buy anything when people tell you you're great or you suck."
Nerd verdict: Movie not so Biutiful but Bardem's work is magnificent
Photos: Jose Haro