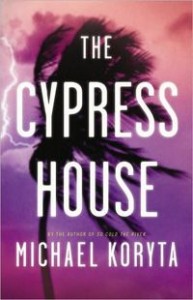 If you're still a little poor from the holidays but desperately want a copy of Michael Koryta's new book, The Cypress House (Little, Brown, Jan. 24), you're in luck. Thanks to Hachette Book Group, I get to give away three copies. Here's the description:
A journey to Florida's coast becomes an inescapable nightmare in the newest supernatural thriller from international bestseller Michael Koryta.

Arlen Wagner has seen it in men before–a trace of smoke in their eyes that promises imminent death. He is never wrong.

When Arlen awakens on a train one hot Florida night and sees death's telltale sign in the eyes of his fellow passengers, he tries to warn them. Only 19-year-old Paul Brickhill believes him, and the two abandon the train, hoping to escape certain death. They continue south, but soon are stranded at the Cypress House–an isolated Gulf Coast boarding house run by the beautiful Rebecca Cady–directly in the path of an approaching hurricane.

The storm isn't the only approaching danger, though. A much deadlier force controls the county and everyone living in it, and Arlen wants out–fast. But Paul refuses to abandon Rebecca to face the threats alone, even though Arlen's eerie gift warns that if they stay too long they may never leave. From its chilling beginning to terrifying end, The Cypress House is a story of relentless suspense from "one of the best of the best" (Michael Connelly).
Sound good? To enter:
be a subscriber or Twitter follower (tell me which if you've never entered a giveaway)
leave a comment telling me about a spooky experience you've had
have a U.S. or Canada address
Giveaway ends next Wednesday, January 19 at 5 p.m. PST. Winners will be randomly selected then announced here and on Twitter. I won't be notifying you personally so please check back to see if you've won. Any prize(s) not claimed within 48 hours will be given to alternate winner(s).
Let's hear some creepy tales!