I consumed a lot of pop culture this week but unfortunately, there were a lot of empty calories. Here's a quick rundown of a couple new TV series and a movie opening today.
Episodes—Showtime, Sundays, 9:30 p.m. ET/PT

This new Showtime sitcom is about a husband-and-wife team of English screenwriters (Stephen Mangan and Tamsin Greig) enticed by a producer to come to L.A. to do an American version of their hit British TV series. It's spot-on in its depiction of the inane things network execs and casting people say during casting sessions, but I'm not sure yet if that's funny or scary. I felt the writers' pain as they're made to jump through humiliating hoops to get their show produced, something they had been told was a sure thing. "It IS written in stone…," one exec says, and another continues, "…but stone? There are things stronger than stone."
Things get even more ridiculous when the lead actor in the British version (played by the Tony-winning Richard Griffiths), who had been promised the part in the adaptation, has to audition for producers only to be replaced by Matt LeBlanc, playing himself. Mangan and Greig are a little bland as the writers, but LeBlanc is completely in on the joke about him being inappropriate for the part so I'd give Episodes another chance to see how much of a train wreck the show within a show will become. Nerd verdict: Tune in for Episodes.
Off the Map—ABC, Wednesdays, 10 p.m.
It's a problem when a show's scenery is more interesting than its characters and storylines. Map, brought to you by producers of Grey's Anatomy, takes place in an unnamed South American country (it's shot in Hawaii and looks very Lost-like), where a bunch of young doctors go to start over after some kind of trauma in their past. The group is headed by Martin Henderson, who's ruggedly handsome but so far doesn't get to display much personality. Zach Gilford and Mamie Gummer are even less charismatic, with Gummer doing unconvincing line readings which made me cringe and realize she fell far from the awe-inspiring tree that is her mother, Meryl Streep. No, I didn't have unfair expectations of her because of her lineage (I've seen her act before); she was just bad in the pilot.
The exception is Caroline Dhavernas as Lily, whose smart and steady blue eyes promise a steeliness that should come in handy in a primitive environment that uses coconut milk as blood transfusion because it contains similar qualities to blood plasma (I didn't take notes). She also shows some spunk in cutting a man down from a zip line after his arm got caught in the wheel (ow!). Gummer's character calls her a girl scout but Lily is more interesting to watch than the supposed hot shots. Nerd verdict: Map is off.
The Dilemma, opening today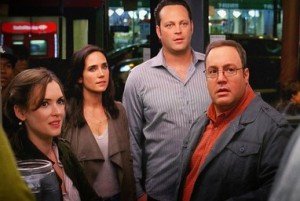 While watching this latest Ron Howard movie, I kept thinking, "This can NOT be by the same man who directed A Beautiful Mind and Frost/Nixon." The Dilemma is about Ronny (Vince Vaughn), who catches the wife (Winona Ryder) of his best friend (Kevin James) cheating and can't decide if he should tell him because the two men are working on a big, stressful business project together. Ronny's indecision is somewhat understandable but what's not is why he doesn't confide in anyone. He lies to his too-patient girlfriend (Jennifer Connelly) and starts behaving erratically, even getting into a drawn-out fight with the wife's lover (Channing Tatum). I think this movie is supposed to be a comedy but none of it is very funny and people get really hurt, physically and emotionally. When Ronny sits on a park bench and starts asking God to give him guidance in the situation, it takes a bizarre turn into serious territory. Vaughn doesn't have enough charm to save this movie, Connelly's talents are wasted and Ryder looks terrific but strenously overacts in all her emotional scenes. Nerd verdict: Skipping Dilemma is an easy decision.
I also finished a couple books this week but they're March releases so I'll review them closer to their pub dates. I read Aaron Sorkin's script for The Social Network, which you can download by going here. This weekend, I'm looking forward to the Golden Globes, which I'll be blogging about and maybe sharing some behind-the-scenes scoop!
What are you looking forward to watching and/or reading this weekend?