When I first tuned in to the red carpet arrivals, I saw a lot of stars wearing black and thought it was going to be a boring night for fashion. I mean, I like and own lots of black but it's just too safe for the red carpet. Celebs should dazzle viewers, not put us to sleep by wearing something we can buy at the mall.
But then a few actresses started showing up in different colored gowns, pink and green and red and even mustard, and I realized there would be beautiful gowns to ogle after all. Some highlights:
Best overall—Dianna Agron
I usually don't like nude gowns but in this one, Agron looks like a dream. Her hair, makeup, jewelry—everything is perfection.
Favorite dress—Lea Michele
Michele bugs me but I really like her dress. It's funny because I've been told I'm kinda boyish (that's better than mannish, right?) but I can look at a girly pink dress with ruffles and swoon.
Best green—Catherine Zeta-Jones
I can't wear green because it makes my skin turn a Hep-C shade of yellow, but CZ-J looks divine. Love how these two are looking at each other.
Best homage to the bride of Frankenstein—Scarlett Johansson
She's so beautiful but what is going on with that hair? It wasn't THAT windy out.
Disturbing comeback trend—1980s Dynasty-style shoulder pads
Oh, please, no. Just no. I really don't want to look like Joan Collins.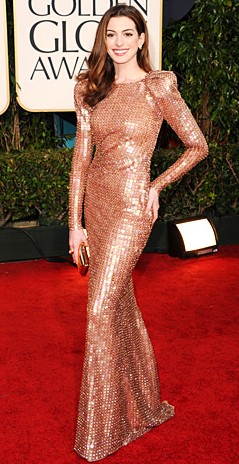 Julianne Moore decided she didn't need two big shoulders and just went for one GIANT one. Yikes. She also won the award for most wrinkled.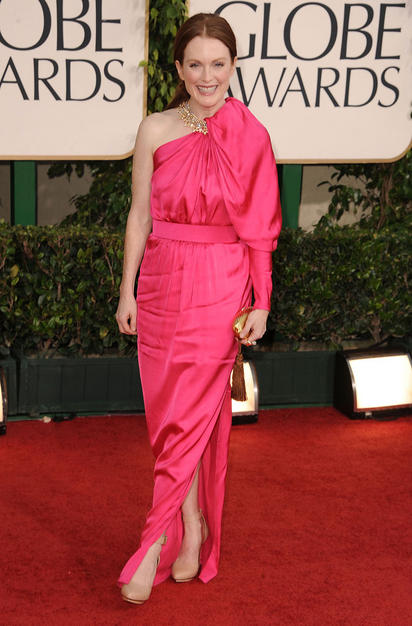 Even more disturbing trend—bordello-style dresses
They're gorgeous and I'm a big fan of all, but don't these actresses look like they work in a saloon or brothel? A very high-priced one, with Tina being the madam?
Wackiest getup I kinda liked—Helena Bonham Carter
This is goofy from head to toe but it says, "I'm having more gun than you are" and Bonham Carter's confidence somehow makes it work.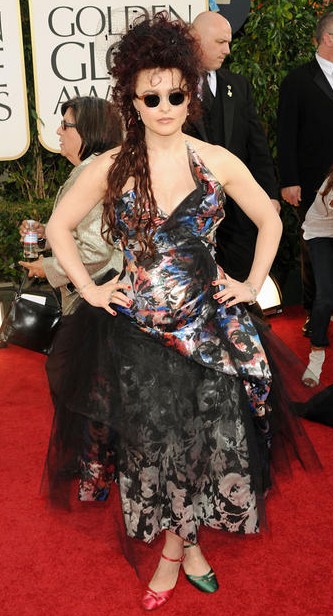 Dress I'm most on the fence about—Natalie Portman
From some angles, I thought this looked sweet. From others, it looked cheap and polyester-y.
Best dressed male overall—
Three-way tie between (from L.) Matthew Bomer, Alex Pettyfer and Chris Colfer. Yes, the fashion is all about the ladies but these guys did a pretty good job pulling themselves together.
Who were the fashion winners and losers for you? Which outfit confused you the most? For my recap on best & worst moments in the show, click here.