This review is by Mr. PCN, who loves Richard Stark novels.
**********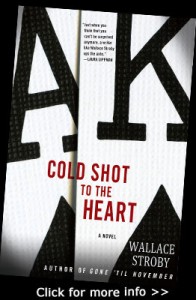 Cold Shot to the Heart's protagonist Crissa Stone is a thief and a damn good one. She has a go-between named Hector who helps find jobs worth her talent and abilities, ones that come with a hefty paycheck of which Hector gets a piece. She usually works with a crew and rarely with someone she doesn't know because she can't trust anyone in her profession. When a job doesn't feel right, she turns it down, no matter how rich the payoff.
Wayne, the person who taught her everything she knows, is currently doing time in prison. Along comes a greedy Texan with a powerful sway over the parole board overseeing Wayne's upcoming appeal. He'll help get Wayne out of jail, but for a price.
Crissa doesn't have the money so she goes to Hector and he gives her what may be the perfect job. Small crew, big payout, too big to turn down. The job looks good on paper but Crissa breaks a rule by working with someone she doesn't really know. Suddenly she's running for her life from a psycho who not only wants her share of the heist but wants her dead as well.
I read this book in one sitting, a rare thing. There are only a few authors who compel me to do so; Richard Stark aka Donald Westlake is on this short list with his Parker books. Anyone who has ever read Westlake's lean, hard prose in a Parker novel knows what I am talking about.
Comparisons will be made between Parker and Crissa Stone, and anyone who misses the literary equivalent of heroin the Stark novels provide can find some solace in Stroby's heroine. Yes, Crissa is a woman instead of the brick wall of a man Parker is, but there's a reason her last name is Stone. I'd be surprised as hell if a strong actress doesn't grab the movie rights to what I hope will be a long-running series.
Buy Cold Shot to the Heart from Amazon
| B&N| Powell's|IndieBound