Yesterday's horrific events left me desolate, so I thought it'd be appropriate to republish—with permission—this review of mine, which ran in last week's Shelf Awareness for Readers. The three lead characters in this novel have experienced a traumatic event, lost their faith, and come to this house to find it again.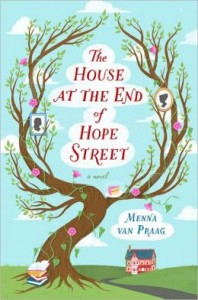 The titular residence in Menna van Praag's The House at the End of Hope Street appears only to those who need it, women who have experienced something devastating they can't seem to move beyond. Alba Ashby finds herself at its door after "the worst event" of her life, and is welcomed in by Peggy, who runs the place. Peggy tells Alba she can stay for ninety-nine nights, "long enough to help you turn your life around but short enough so you can't put it off forever."
Alba receives advice from talking portraits of the house's former residents, including Dorothy Parker, Virginia Woolf, Sylvia Plath, and Elizabeth Taylor. She also meets two other women seeking sanctuary: Greer, an actress approaching forty who's at a crossroads in her life and career; and Carmen, who has buried something in the yard that seems to terrify her. Each woman's actions start affecting the others', driving them to face what they're running away from, until they discover they're not hopeless after all.
On the surface, the book may sound precious, with the aforementioned chatty portraits, a ghost cat, magical closet, breathing walls, and Alba's synesthetic ability to see emotions as colors. The story stays grounded, though, because there is nothing cute about the events that send the women to the house. They've all gone through something that would derail most people. Their secrets unravel slowly, so there's a sense of mystery, and some of the revelations are surprising. Everything wraps up a bit too neatly in the end, but whatever happiness the characters find feels well earned by then.
Nerd verdict: Magical story about rediscovering Hope