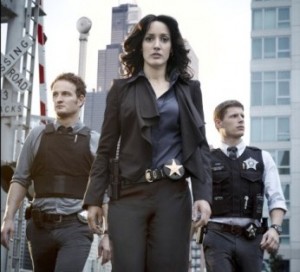 Though Shawn Ryan's The Chicago Code (FOX, Mondays, 9 p.m.) isn't the most innovative cop show ever, its style and content make it immensely watchable. Jennifer Beals stars as Teresa Colvin, the Chicago Police Department's first female superintendent. She assembles a secret task force to take down corrupt alderman Ronin Gibbons (Delroy Lindo), who put her in charge because he thought she'd play nice. Having no official backing or funding, she has only two team members, her ex-partner Detective Jarek Wysocki (Jason Clarke) and his new partner, Caleb Evers (Friday Night Lights' Matt Lauria).
The show carries a few Ryan trademarks: snappy dialogue, whiplash-fast pacing, and excellent acting. If you saw The Shield's pilot, you probably weren't surprised (I was expecting it) when ***mild spoiler alert!!*** a seemingly integral part of the task force was fatally shot.
***end spoiler***
Not sure if I like the voiceovers from multiple characters' POV and don't know if it's necessary. (Don't love it on Grey's Anatomy and Desperate Housewives, either, but at least they stick to only one narrator.) The show has enough going for it, though, that I'm willing to put up with the narration if it doesn't get too distracting.
Beals, who has become more beautiful and a better actress over time, exudes a breezy confidence as Colvin, wearing her power lightly but never letting us or her underlings forget who's boss. That isn't as easy to do as it sounds. I remember when Mariska Hargitay started out on Law & Order: SVU as Detective Benson. She was trying so hard to act tough, it was painful to watch. She eventually relaxed into the role, doing something Beals seems to have figured out from the get-go: If you're in control, you just are and don't have to prove it.
Clarke is hard-nosed without being a jerk and you wouldn't know he's Australian from his Chicago accent (though I don't know how authentic it is). Lauria is appealing as the baby-faced cop whom Wysocki underestimates at first. Lindo covers his sleaziness with smooth indignation, making him a formidable opponent and someone I'll enjoy watching Colvin's team take down.
Nerd verdict: Code crackles
Did you watch this? What did you think?