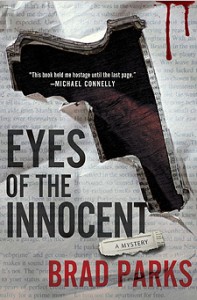 Though Brad Parks had Shamus and Nero awards thrown at his Faces—his debut novel, Faces of the Gone, that is— there's no sign of the sophomore slump in his follow-up, Eyes of the Innocent, which is even better than its predecessor.
Newark Eagle-Examiner investigative reporter Carter Ross is back, assigned to write a routine piece about the dangers of space heaters. He soon discovers the story behind a recent house fire that killed two children had nothing to do with heaters, but something much more destructive and prevalent. His investigation turns deadly when he and his interns uncover corruption that leads to City Hall.
The topic at the center of Eyes—the subprime mortgage crisis—is a resonant, timely one. In the last few years, I've watched hardworking friends lose their homes after being encouraged by lenders to buy more than their budgets allowed. Seeing their homeowners' pride turn into panic is heart-rending and Parks captured that sense of despair. Sometimes the villain doesn't carry a gun or have tattoos. He/she could be the person in the suit who preys on your dreams.
The novel isn't all bleak. Parks inserts notes of levity into the proceedings, sometimes with just a line: "She's so tough she can slam a revolving door." His characters are colorful and never lacking for quips. Ross's editor Tina still wants him to be her sperm donor/baby daddy and his intern Tommy still disparages Ross's WASP-y fashion sense. And don't underestimate new intern Sweet Thang aka Lauren, whose hot body Ross tries hard not to ogle. She may seem too fluffy for the newsroom at first but later proves she's made of sterner stuff.
Nerd verdict: Sharp, witty Eyes