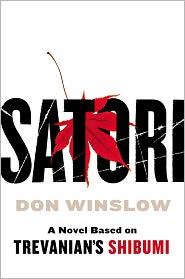 If I hadn't already been a huge Don Winslow fan before I read Satori, I think this review would be different. But since I revere his other books, my opinions are, fairly or not, weighted by the expectations I brought to this one, which he wrote "in the tradition" of another author.
Satori is the prequel to 1979's Shibumi (which I haven't read), an international sensation written by Rodney Whitaker under the pseudonym of Trevanian. Both are about the singular assassin Nicholai Hel, the son of a Russian mother and German father but raised in the Far East. It's 1951 in Tokyo and Nicholai is twenty-six when we meet him in Satori as he's being released from an American-run prison after committing an honor killing. His freedom has a price—he must impersonate a French arms dealer and assassinate a Soviet commissioner in Beijing, an almost certain suicide mission. The assignment and its fallout take him to Laos and then Saigon, where he in turn becomes the target for assassination.
The international elements and narrative style of this book remind me of old-school thrillers like Leslie Charteris's The Saint series and Patricia Highsmith's Ripley novels. Which is fine, except I've become hooked on Winslow's lean, blistering prose (e.g. his famous two-word first chapter in Savages) and wanted to see some of that here, despite realizing that Nicholai is a period character who is much more internal than, say, Boone from The Dawn Patrol, and requires the more meditative style. I just had to get used to this different voice coming from one of my favorite authors.
Winslow transports readers to exotic places with his sumptuous details, immersing us in different cultural traditions. We get to experience a Japanese tea ceremony and a Beijing opera, learn about the Zen notion of sudden awakening called satori, we're instructed deadly fighting methods such as the leopard paw and hoda korosu, and taught how to play a strategic board game called Go, whose concept Nicholai relies on for survival. Seeing how Go helps Nicholai always stay one step ahead of his opponents made me want to try playing it myself.
Winslow's descriptions of Saigon also made me long for the place I once called home. The city in the early '50s is different from the one I knew twenty years later, but some things remained the same—Cholon, the Notre Dame Cathedral, and the following scene:
Vietnamese police, in their distinctive white uniforms, stoically struggled to manage the swirling Citroën and Renault autos, cyclo-pousses, Vespa scooters, and swarms of bicycles that competed for the right-of-way in a chaos that was a true mixture of the French and Asian styles of driving. Honking horns, jingling bells, and shouts of good-natured abuse in French, Vietnamese, and Chinese contributed to an urban cacophony.

Child street vendors darted and dodged through the traffic to sell newspapers, bottles of orange soda, or cigarettes to customers momentarily stuck in a jam, or sitting at a café table, or just walking down the busy sidewalks.
Winslow has clearly done meticulous research but made one mistake regarding Vietnamese cuisine. A cook makes something called nouc mom, described as "the Vietnamese fish soup that was a staple of the peasant diet." This soup is mentioned several times and sounds delicious but there's no such thing as nuoc mom. There is something called nuoc mam but it's just fish sauce, a condiment like soy sauce. I think Winslow is referring instead to the soup called cháo cá.
My Vietnamese nitpickiness aside, Satori is something to experience, with Nicholai an intriguing guide to take us through it all. At the end, I had a flash of sudden awareness that told me I now have to read Shibumi.
Nerd verdict: Culturally rich Satori