I've had my nose buried in the grindstone on a couple of fun projects but wanted to pop in here for a few minutes to discuss two new TV shows I found worth watching. The first is AMC's The Killing, an adaptation of a Danish series about a young murdered girl who may be linked somehow to the campaign of a city councilman running for mayor. Each hour represents a day in the investigation and so far, the first two days have been pretty intriguing. (There are 13 episodes total.)
Mireille Enos, as lead detective Sarah Linden, pops against the gray Vancouver palette that stands in for the show's Seattle, not just because of her strawberry blonde hair and pale skin, but because she can hold your attention by simply standing still and showing you everything she's thinking through her translucent blue eyes. I've always enjoyed Billy Campbell's work so it's good to see him as the councilman who may or may not be involved in the girl's death. There have been lots of comparisons to Twin Peaks, which could be good or bad depending on how you felt about that show (I loved the first season). So far, I don't think Killing is as weird—no mentions of dwarfs or log ladies yet—but I'll be spending Sunday nights wondering, Who killed Rosie Larsen?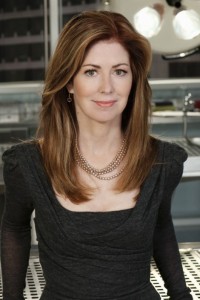 The other new show I've been following is Body of Proof, starring Dana Delany as a nut-busting coroner who always seems smarter than everyone else in the room. Her Dr. Megan Hunt often behaves inappropriately—she tags along when the police questions suspects and then commandeers the situation—but Delany's charisma and confidence make us not only accept it but root for her. She also looks amazing, sexier than her overly nip-tucked peers and women half her age.
There are a couple issues, though, that have kept this show from being great for me so far. First, Megan cries way too much. She's estranged from her teenage daughter and every time she talks to her, she gets all teary. I let that slide since it's a tough situation. But then in the second episode, Megan cries when she's telling the parents of a murdered girl how she was killed. C'mon! I know it's tragic but if she's going to cry every time she breaks bad news to people, she won't last long in the job. And she's supposed to be the best.
Another thing is how her partner Peter (Nicholas Bishop) is always giving her unsolicited parenting advice, including what kind of birthday present she should buy her kid. He doesn't just make his point and move on, he sometimes lectures her. I find it hard to believe a tough independent-minded woman like Megan wouldn't tell him to butt out.
Have you watched either of these shows? What do you think? If you missed them, you can watch The Killing without commercials here and Body of Proof here.