Poncho is back to get all up in Idol business, which he'll be doing until a new champion is crowned.—PCN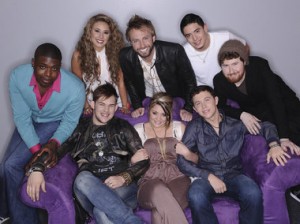 This week, we're missing one great vocalist with no sense of showmanship, and left with eight wannabes. I'll admit the night was full of surprises. Nah. The night had a couple of welcome surprises, one Idol Moment™ and pretty much the same as usual for the rest.
Here's my take:
Paul McDonald sang "Old Time Rock 'n' Roll" from Risky Business and it was weird in a cool kind of way. It started good and his seizures trademark dance moves were somehow made useful with a tambourine in one hand. Paul's definitely getting more comfortable on stage and it shows. But then, a sax player came out and she absolutely upstaged Paul. She had so much more soul than he did and the notes coming from the sax were KILLER. I'd give a B to Paul and an A+ to the sax player. I'm guessing his banter with will.i.am and Jimmy Iovine about singing in his underwear will give him a lot of votes, but I'm still thankful he decided NOT to perform that way. 'Nuff said.
Iovine told Lauren Alaina she's a much better singer than Miley Cyrus, and I'm still wondering if that's a compliment. I mean, I've got more political savvy than Sarah Palin, but I've never run for vice president (besides, I can't). Anyway, Lauren picked Cyrus's song "The Climb." I gagged. "The Climb" is, in my opinion, one of the most overexposed so-so songs in history. But I'm grateful she decided to go current and be her age. Lauren has good vocals but the whole thing was underwhelming. After all, it's from Hannah Montana: The Movie.
I'll give Stefano Long-gone credit: he's been consistent. Consistently boring, that is. He picked a Boyz II Men song and, though he did better than last week, he's been performing in a whole different level than his fellow contestants, and I don't mean it as a good thing. He's mediocre, has little-to-no stage presence, and each song he picks sounds almost the same. Also, I think there might be some backlash against him after Pia's exit. I'll be bold and say it's the "End of the Road" for him.
The good thing about Scotty McCheesy this week is that he's pulling the Velveeta factor back. It's still there; he can't do nothin' but hold the reins and try to manage it. The bad thing is, his choice this week—George Strait's "I Cross My Heart"—exposed his vocal limitations. He finished the performance well and in good control, but his niche remains in slightly more uptempo songs where he can use his lower pitch. He's still much better than other contestants (*cough* Stefano *cough*) and has the tweens in his pocket, so I think he'll be safe.
I'll admit it. I was actually very surprised at Casey Abrams. His song choice was bold, and the only intuitive thing about him picking Nat King Cole's "Nature Boy" is that he looks like a lumberjack. His performance was laid-back and really intimate, and though he still has to control his face-pulling and avoid growling at times, he managed to do something very nice. I wouldn't jump as the judges did and give him a standing ovation, but as I was watching him, I actually closed my eyes and pictured myself in a lounge with some drinks and great (female) company, just feelin' it.
The judges blasted Haley Grrrreinhart after her cover of Blondie's "Call Me." She wasn't as good as she was with "Benny and the Jets" two weeks ago, but she nailed most of the song. She botched the first two notes and got a little sloppy at the end, but her growl—again—fitted where she put it. And she had fun. I didn't understand the bad criticism Jenny and her block gave Haley when she's actually growing as a performer, and she still has so much more going on than many other contestants (*cough* Jacob *cough*). I hope she won't become the sixth girl out because then I'd actually fear tween girls taking over the world.
Jacob Lusk-y Stank was bad. The performance wasn't as catastrophic as his butchering of "Alone" was, but I didn't feel his version of "Bridge Over Troubled Water." At all. It's just not the corniness and the diva faces; he lacks a good vibrato and he botched lots of notes. He went too low, then managed parts of the middle, then went too high, again too low, and by the time the backups came in, he was singing something else. I'm definitely not a Clay-mate but Jacob could never match what Aiken did on season 2 with this song.
But the award for best performance of the evening goes to Zakk Wylde from Black Label Society playing lead guitar for James Durbin on "Heavy Metal" by Sammy Hagar. Wylde was on fire, gave amazing riffs and the face-melting solo was out of this world. Then the judges said…wait, what? Why were they talking about the guy who wailed with no sense of pitch through Zakk's masterful guitar work? I mean, I'd thank him for bringing a real rocker to the stage, but not praise him for being one 'cause he ain't. Oh, well, sometimes I don't understand this show.
Did movie night thrill you?