Just wanted to point out a couple of quick things before you start your weekend. Danielle over at There's a Book alerted me to the new website, Pottermore, and the official J.K. Rowling YouTube channel where the author will make an announcement about her new project in 5 days. Bookmark them, watch the countdown with me if you're a Potter head, and hopefully we'll have some happy news to celebrate in less than a week!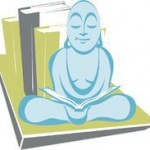 The other thing is the new Shelf Awareness publication for readers, which launched today. If you subscribe to the daily newsletter for the book trade, you should have automatically received this new edition. It comes out twice a week on Tuesdays and Fridays, and contains lots of bookish news and reviews of the best books released each week. It's free, and if you haven't signed up, you can do so here, get all the scoop and be more interesting at parties. I'm excited to say I write for it and have a review of Marcus Sakey's The Two Deaths of Daniel Hayes in the first issue!
Happy Friday to all. Hope you have a brilliant weekend filled with all the entertainment you like best.