Because it's Sunday and Father's Day, I'm going to be lazy and reprint—with permission and encouragement—my review of Marcus Sakey's The Two Deaths of Daniel Hayes that ran in the Shelf Awareness: Enlightenment for Readers issue this past Friday.
Hope you're having a fantastic day and making your fathers happy, wherever they are.
***********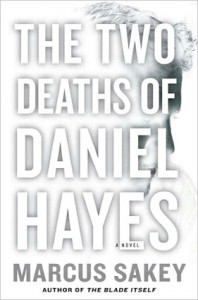 Marcus Sakey wastes no time plunging readers right into the depths of his thrilling new novel, The Two Deaths of Daniel Hayes. The first scene has a man waking up in the middle of an ocean, naked, in the dead of night, with no memory of who he is and how he got there. He manages to make it to land, find an abandoned car, and drive to a nearby hotel. But then a cop comes after him. What has he done? Why is he drawn to an actress he sees on TV? How does he find his way back to his life and what will he find there?
The protagonist turns out to be a screenwriter, and sometimes his flashbacks unfold as scenes from a screenplay. In Sakey's hands, this method works rather well. The film rights to three of Sakey's previous four novels have sold to Hollywood and it wouldn't be surprising if this one sells, too.
But you shouldn't wait for any potential movie because you'd miss out on Sakey's sharp, vivid prose, describing low-rent motels as "places people came to hang themselves," and a woman in a convertible as "a blonde whose hair stirred like a dream of summer." He also shows a sense of humor with observations like the following:
"Luckily, he was in Los Angeles. If a second head had sprouted from his belly and begun pitching a spec script, it wouldn't have drawn more than a glance."
No matter where you are, you should definitely give Two Deaths more than a glance.
Nerd verdict: Sharp, thrilling Two Deaths